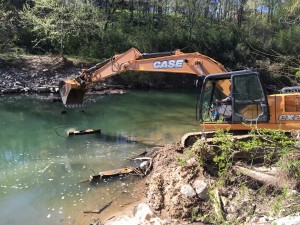 March 30, 2016 (Batesville, AR)—Today marked the completion of a monumental project for
the City of Batesville and Independence County: the removal of two large sewer pipes from the
Polk Bayou.
In 2011 the Batesville Area Chamber of Commerce (BACC) assembled an ad hock committee of
over 60 interested citizens and community leaders to investigate the feasibility of developing
the Polk Bayou. With financial support from First Community Bank, the City of Batesville was
able to apply for and receive a matching grant from the Arkansas Department of Parks and
Tourism to conduct a professional economic impact study. The study proved the bayou's water
was in excellent condition and safe for use. But development was stalled by the sewer pipes
that were prohibitive to making the bayou attractive to and navigable by visitors.
City of Batesville Engineer Damon Johnson said of the pipe removal project, "The upper sewer
bayou crossing is being removed today. The sewer crossing was taken out of service in 2015 but
high water levels had prevented removing the pipe until now. This [removal] will allow canoes
and other watercraft to navigate the bayou freely."
BACC President/CEO Crystal Johnson added: "There are many people in our community who
have worked very hard to make these changes happen. We appreciate the City of Batesville for
making the removal of these two pipes a priority in their program of work. The Polk Bayou is
an underutilized asset that we can now promote to visitors for use."
The Polk Bayou became available for watercraft navigation immediately upon the pipes'
removal.