McDonald's restaurants Central and Southwest Arkansas just added some new and refreshing Frozen Carbonated Beverages to their menu, including Frozen Coke and Frozen Fanta in Wild Cherry or Blue Raspberry flavors.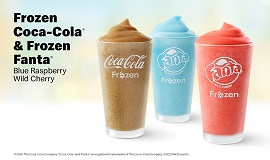 Need some late afternoon summer refreshment or do you simply love icy treats? McDonald's Frozen Carbonated Beverages offer an airy frozen treat for your next freeze break in three delicious flavors:
Frozen Coke turns a great Coca-Cola taste into a chilly refresher
Frozen Fanta delivers  Wild Cherry and Blue Raspberry if you want a burst of fruit flavor and color
The Frozen Coke and Frozen Fanta flavors are now available at participating McDonald's restaurants throughout the Central and Southwest Arkansas region as part of McDonald's year-round beverage line so customers can choose their chill when they want it most.