Here are the Church Service Cancellations for Sunday, December 9, 2018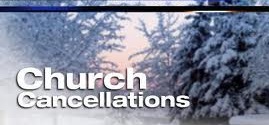 Fairfield Bay Baptist Church no services.
Fairfield Bay United Methodist Church is canceling both the Sunday morning church service & and the Christmas program scheduled for 3:00 p.m.
Foothills Baptist Church in Mountain View no services
Faith Lutheran Church in Fairfield – no services
First Baptist Heber Springs – no services
Heber Springs Church of Christ services – no services.
Sulphur Rock Baptist Church – no services
Westside Baptist Church in Greers Ferry No church services for this Morning.
Other Cancelations and rescheduling:
North Central Arkansas Foundation for the Arts and Education Christmas Concert with Dynamic Duo for Sunday at the Conference Center in Fairfield Bay has been Canceled.
The Saline Eagle Camp Christmas Open House has been rescheduled for Saturday 12-15-2018