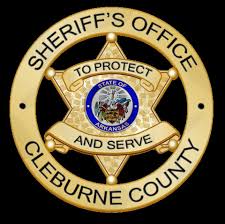 Sheriff's Office makes arrest for disorderly conduct, trespassing
On July 28, 2020 around 3:19pm a Cleburne County Sheriff's Deputy responded to Eden Isle in reference to a male subject, later identified as Darren Cone, 33 of Quitman, knocking on doors looking for work. It was alleged that Darren knocked on multiple doors looking for work before he was contacted by Eden Isle security and a Sheriff's Deputy. Darren was asked to leave the area, and he did so. Around 4:01pm, dispatch was contacted by a caller on Piney Creek Road West in the Hopewell area stating there was a male on the front porch accusing the residents of stealing his dog. Deputies were dispatched and arrived a short time later, making contact with Darren, who was identified as the male that had been on the porch. After questioning the residents, Darren was arrested for Criminal Trespass and Disorderly Conduct, and transported to the Cleburne County Jail. Darren later bonded out of jail.
On July 29, 2020 the Sheriff's Office was contacted by several concerned citizens about a possible child abduction case, referencing the above two calls involving Darren Cone. Detectives took the case over this morning and began investigating any further motives or potential criminal action. At this time, there is no evidence to support any claim that the above calls were an attempt to carry out a child abduction.
The Cleburne County Sheriff's Office takes all calls and complaints very seriously, and always strives to provide the best service possible to the citizens of this county, and all those that come and visit. The men and women of the Sheriff's Office are committed to working hard every day to make Cleburne County a safer place to live, work, and play. As always, any crime tips can be sent to the Sheriff's Office via phone at (501)362-8143 or by email at info@cleburneso.org
All suspects are presumed innocent until proven guilty in court.