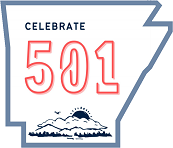 Celebrating that we live in the 501 area code on Saturday, May 1st!  All Day event!  The following businesses are helping to celebrate and here's what they are offering:
Fairfield Bay Area Chamber of Commerce is hosting a Dine-in or Drive-by lunch at the Chamber/Visitor Center, 365 Dave Creek Parkway from 11:30 am – 1:30 pm. We will be serving Mexican casserole, confetti bean salad, tortilla chips, and a beverage. $5.00 for one meal. All proceeds will go to the mural beautification project in the Towne Center.
Eclectic Estates, 870-717-2667, 8584 Edgemont Road in Greers Ferry is offering $5.01 off of a purchase of $25.00 or more, Buy 5 and get one free offer and a 5% discount on one item.
Spa Serenity at the Bay, 501-825-3046, 100 Lost Creek Parkway, Fairfield Bay. $5.01 off any spa service
Bayside Restaurant, 501-825-3090, 100 Lost Creek Parkway, Fairfield Bay. $5.01 for any dessert
Hickory Hill BBQ, located at 4285Hwy 330 S. in Fairfield Bay, is offering a BBQ sandwich with a bag of chips for $5.01! This deal is good from 11 am to 2 pm. To find out more about Hickory Hill and see their menu, visit their website. https://hickoryhillfarmandbbq