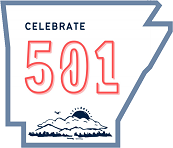 Help us celebrate 501 Day on May 1st at Makers Market on the Square! The Fairfield Bay Chamber will be hosting a food drive at our booth to benefit local food pantries. Bring food items such as cereal, peanut butter and canned food. You can also drop off food at the Chamber office at 110 S. 7th St. prior to the event.  Waste Connections of Arkansas will be giving out 501 hot dogs!
Golden Girls Heber Springs will be celebrating with some of their favorite things about Arkansas! They will have special sales and refreshments at their store that will leave you wanting more and will donate 5.01% of all sales that day to The Call Of Cleburne County!
If you or your business would like to participate in the 501 Day celebration, please let the Chamber know! 501-362-2444.