The Bluegrass & Fried Chicken Festival is Aug. 6-7, 2021, at Ozark Folk Center State Park in Mountain View, Ark. The music festival will feature an extended show on Friday night, a Saturday matinee, and a Saturday evening extended show.  The new event, which is sponsored by Stone Bank and the Arkansas Arts Council, features local, regional, and nationally touring bluegrass bands at Ozark Highlands Theater, the park's 1,000-seat indoor music venue, and delicious Southern fried chicken at The Skillet Restaurant, also located on-site at the park.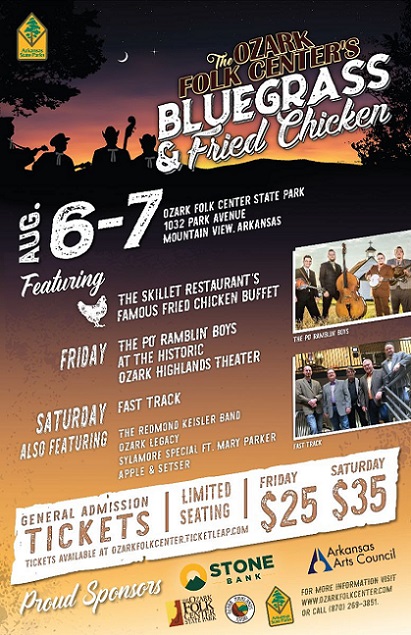 Headliners include The Po' Ramblin' Boys and Fast Track. These two bands are growing in popularity among a new generation of bluegrass fans. Both Fast Track and The Po' Ramblin Boys are scheduled to perform two sets during the Friday and Saturday event.
The Po' Ramblin' Boys, a hard-driving traditional bluegrass band from East Tennessee, first caught national attention in 2018 when they won the award for "Emerging Artist of the Year" at the International Bluegrass Music Awards (IBMA) and became known to a wider audience when their debut release for Rounder Records "Toil, Tears & Trouble" received a Grammy nomination for "Best Bluegrass Album" in 2019. The band continued to gain favor with fans after receiving the award for Song of the Year at the 2020 SPGMA Awards (Society for the Preservation of Bluegrass Music of America).
Fast Track released their first album last year and drew tremendous interest among the bluegrass community. Although they are technically a new band, its members should be familiar faces to most bluegrass fans. Altogether, individual members of the group have earned more than two dozen IBMA Awards, countless SPGMA Awards, four Grammy nominations, and have performed with Ricky Skaggs, Doyle Lawson, The Bluegrass Cardinals, Alison Krauss, and Bill Monroe & His Bluegrass Boys.
The festival will also feature several youth bands from the "Folk Music Capital" of Mountain View, a town that has become known for producing some of Arkansas's best bluegrass and old-time folk musicians. The lineup includes Sylamore Special, a young up-and-coming group who won first place at the Youth in Bluegrass Contest in Branson, Missouri, after competing against bands from nine states Memorial Day weekend, and Ozark Legacy, a group featuring 16-year-old multi-state fiddle champion, Mary Parker, and 17-year-old National Banjo Champion, Lillyanne McCool, who was nominated for Young Artist of the Year at the Arkansas Country Music Awards earlier this year.
Other artists included in the festival lineup include veteran musicians from Mountain View, including multi-instrumentalist Pam Setser, and mandolin virtuosos Brad Apple and Sam Cobb. Each has also received nominations at this year's Arkansas Country Music Awards, including awards for Bluegrass Artist of the Year and Americana Artist of the Year, among others. Redmond Keisler, who is also well-known on Arkansas's bluegrass festival circuit, is scheduled to perform on Friday night and Saturday.
Concert ticket prices are $25 for Friday night and $35 for Saturday. To reserve your general admission tickets for Bluegrass & Fried Chicken, visit OzarkFolkCenter.Ticketleap.com. (Fried chicken buffet sold separately.) Note: We will be following Arkansas Dept. of Health COVID-19 guidelines to help ensure the safety of guests, so seating could be limited.
The Skillet Restaurant at Ozark Folk Center State Park will be serving its famous fried chicken throughout the festival on August 6-7. The hilltop restaurant, which is known for its Southern hospitality and down-home cooking, will be serving a fried chicken dinner buffet from 4 to 7 p.m. on Friday and Saturday, as well as a breakfast buffet featuring chicken and waffles on Saturday from 8 to 11 a.m. The cost for a buffet is $10 for breakfast and $12 for dinner. Special chicken items will also be available in the Ozark Highlands Theater concession stand.