Governor Asa Hutchinson and Secretary Smith Confirm 59 New Cases of COVID-19 for a Total of  643 Confirmed Cases in Arkansas as of 1:30 pm as of April 2, 2020. Twelve 12 Total Deaths and 2 Deaths from Cleburne County in Greers Ferry, 1 Death from Van Buren County in Fairfield Bay, and 1 death at White River Health Center in Batesville in Independence County. At the time of this press Conference, the total was 643 (91 are health care workers), it breaks out as 20 children under the age of 18, 183 over 65, and 440 adults from the age 19-64 (60% are women, 40% are men) and 66 Hospitalized, 23 ICU Patients and 51 are in nursing homes. 47 people have recovered.  A total of twelve (12) Deaths reported with COVID-19 two of deaths from Greers Ferry in Cleburne County, one death from Fairfield Bay in Van Buren County, one death at White River Health Center in Batesville in Independence County.
Notes from today's News Conference
Of the 643 confirmed positive cases in Arkansas, 8 are pregnant, 50 have diabetes, 40 have heart disease, 23 have chronic lung disease, 12 have chronic kidney disease, one has chronic liver disease, and 18 have ammunition compromising conditions.
Dr. Smith encouraging folks to be outside because of ultraviolet light decreases transmission for a wide variety of germs
If you think you have CORID-19 do not go to the Doctor or Emergency Room you must call UAMS first 800-632-4520
If you are unemployed text the word, "unemployment" to 501-376-1111
Notes from past News Conferences
Arkansas is a pilot program for a drive through testing with Wal-mart
Governor is calling for the Buffalo river National park to be closed for COVID-19
State Parks will be closed for overnight visitors to day time only
The highest risk demographic are those over 65 and those with medically compromised condition
Very concerned about nursing homes
Other News:
Stone County Judge Stacey Avey tests positive for COVID-19
Top Counties 7 Counties confirmed COVID-19 cases in the Timeless 106.1 KFFB listening area:
Pulaski County 113 positive cases, 479 negative cases
Cleburne County 63 positive, 71 negative cases
Faulkner County 36 positive, 405 negative cases
Van Buren County 20 positive, 63 negative cases
White County 11 positive, 126 negative cases
Stone County 5 positive, 25 negative
Pope County 6 positive, 415 negative cases
Counties with one to 4 COVID-19 cases in the Timeless 106.1 KFFB listening area:
Baxter County
Conway County
Independence County
Searcy County
Woodruff County
ADH has activated a call center to answer questions from health care providers and the public about the novel coronavirus. During normal business hours (8:00 am – 4:30 pm), urgent and non-urgent calls, please call 1-800-803-7847 or email ADH.CoronaVirus@arkansas.gov. After normal business hours and weekend calls, needing immediate response, please call 1-800-554-5738.
ARKANSAS DEPARTMENT OF HEALTH COVID-19 WEBSITE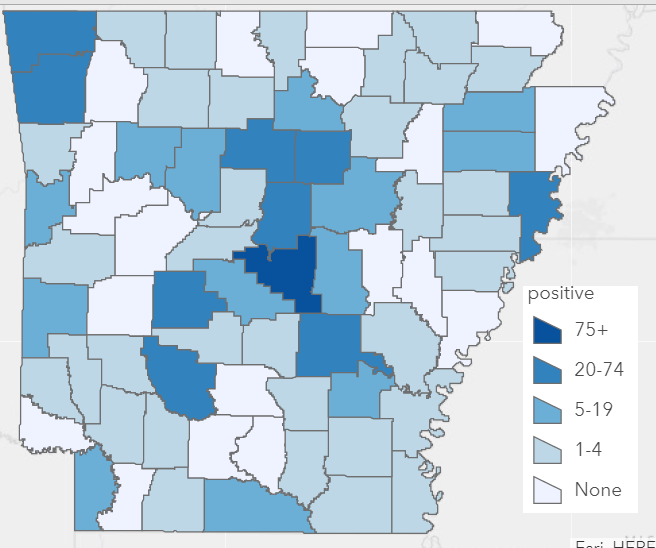 WATCH Governor Hutchinson COVID-19 Update 4-2-2020