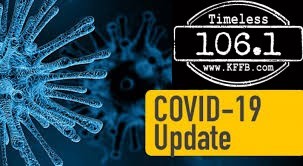 Governor Asa Hutchinson and Dr. Nathaniel Smith, Secretary of the Arkansas Department of Health, Confirm 72 New Cases (71 in community and 1 in prison) of COVID-19 with 3277 recovered, 862 active cases (breaks out with 295 are in prisons, 90 in nursing homes, and 477 in the community) for a total of 4,236 total Confirmed Cases in Arkansas.
At the time of this press conference, a total of 64 are Hospitalized, 13 ICU Patients, with a total of 316 are in nursing homes and 176 staff as of 1:30 pm as of May 13, 2020.
Notes from today's news conference
Community Health Centers are expanding to 2,000 tests per week, if you do not have insurance you will be tested for free.
This week is National Hospital week
The goal of 60,000 tests done in the month of May, as of May 12, 2020, there have been 23,949 tests that have been done in the State of Arkansas.
Counties with COVID-19 cases: broke out as total active (Counties Ranked by Active Cases), then by total positive, total negative, total recoveries and deaths in the Timeless 106.1 KFFB listening area (as of 5:33 pm on May 13, 2020):
Pulaski County 110 active cases, 647 total positive cases, 8,080 negative cases, 514 Recoveries, 23 Deaths
Sharp County 18 active cases, 26 total positive cases, 188 negative cases, 6 Recovery, 2 Death
Independence County 8 active cases, 19 total positive cases, 386 negative cases, 11 Recoveries, 0 Deaths
Pope County 8 active cases, 51 total positive cases, 1,838 negative cases, 43 Recoveries, 0 Deaths
Faulkner County 7 active cases, 83 total positive cases, 2,131 negative cases, 73 Recoveries, 3 Death
Izard County 5 active cases, 13 total positive cases, 124 negative cases, 8 Recovery, 0 Death
Lonoke County 4 active cases, 43 total positive cases, 1,179 negative cases, 39 Recoveries, 0 Deaths
White County 3 active cases, 36 total positive cases, 1,136 negative cases, 32 Recoveries, 1 Death
Conway County 1 active case, 14 total positive cases, 397 negative cases, 12 Recovery, 1 Death
Cleburne County 0 active case, 72 total positive cases, 437 negative cases, 68 Recoveries, 4 Deaths
Van Buren County 0 active cases, 28 total positive cases, 326 negative cases, 26 Recoveries, 2 Death
Stone County 0 active cases, 8 total positive cases, 149 negative cases, 8 Recoveries, 0 Deaths
Searcy County 0 active cases, 6 total positive cases, 168 negative cases, 6 Recovery, 0 Deaths
Jackson County 0 active cases, 1 total positive cases, 154 negative cases, 1 Recovery, 0 Deaths
Baxter County 0 active cases, 5 total positive cases, 404 negative cases, 5 Recovery, 0 Death
Fulton County 0 active cases, 3 total Positive cases, 151 Negatives cases, 3 Recoveries, 0 Deaths
Notes from past News Conferences
Arkansas has received the new drug Remdesivir Injection from the CDC a new drug for COVID-19
100,000 unemployment checks will be issued this week, over 780 million in the reserve fund for unemployment in Arkansas.
23,000 have filed claims for the Pandemic Unemployment Insurance
12,000 have applied for Arkansas Ready for Business Grant Program
Pools, Splash pads, water parks and swim beach- Effective May 22, No entry if fever, symptoms or contact with positive patient, 50 percent capacity, 6-foot physical distancing in all areas, If needed, fewer entrances so overcrowding can be controlled, Markings to note distancing at slides, diving boards, anywhere with a line, Disinfect high touch areas frequently tables, chairs moved 6 feet apart(family groups can sit together, Maintain pool chemistry with twice-daily PH testing, Lifeguard training can begin today.
147 million dollars has been approved by the Arkansas Legislators for Arkansas Ready For Business Grant Program.
May 18, 2020 opening Casinos in Arkansas at 1/3 capacity with guidance from the AHD.
Executive order to help Gas & oil industry by wavers.
State Revere is down 28.5 % Arkansas has readjusted it's projections
New Executive Emergency Order Extending 45 Days
Restriction for Recreational travelers is lifted for non-hot spots (no entry for recent travelers to N.Y, N.J., Conn., an New Orleans). With strong protocol to protect guests and staff.
Large Outdoor Venues Directive – Effective May 18, Examples: arenas, sports venues, race tracks, stadiums, amusement centers, fairgrounds, 12-foot distance between performers, audience, 50 or fewer performers/players/contestants, Audience of 50 or fewer people, 6- foot distancing in seating, except for family groups, lines marked/monitored for distancing, every other row should be unoccupied, Face coverings required for anyone over 10 years old If 12-foot distancing maintained from all others, no face covering required for performer/player/contestant, Signs should advise no entry if any symptoms or contact with positive patient, Hand sanitizer stations at all entrances/exits, refreshments allowed, but no self-service, facility including seating cleaned before/after each use
May 15, 2020, Arkansas State Parks phase #1 open use of Cabins, Lodges, and Rent-A-RV, Reservations limited to Friday through Monday only to Allow for cleaning, In-State Residents only
May 15, 2020, Arkansas State Parks phase #1 opening the following to limited capacity and with social distancing enforced: Restaurants and Food Service Facilities, Museums and Exhibits, Retail including Visitor Centers, Gift Shops, and Golf Pro Shops, Marinas and Rental Equipment.
Grandparents and Grandchildren (those contacts of those adults over 65 is at phase 3 of lifting restrictions)
Under Phase One- Encourage Telework, Return to work in Phases, Close Common Areas, Minimize Non-Essential Travel, Strongly consider Special Accommodations for personnel who are members of a Vulnerable Population
Dr. Smith says we must be careful of a resurgence of COVID-19 if we are to open up our economy.
New website for unemployment ARunemployment.com (Pandemic Unemployment Assistance (PUA) Email Alert System scan me code on the new website)
Schools will remain closed for the remainder of the School year, no in-school instruction, Sr's will graduate, AMI will be continuing, for 2019-2020 school year
Golfing is allowed with restrictions
Dr. Smith encouraging folks to be outside because of ultraviolet light decreases transmission for a wide variety of germs
If you are unemployed text the word, "unemployment" to 501-376-1111
ADH has activated a call center to answer questions from health care providers and the public about the novel coronavirus. During normal business hours (8:00 am – 4:30 pm), urgent and non-urgent calls, please call 1-800-803-7847 or email ADH.CoronaVirus@arkansas.gov. After normal business hours and weekend calls, needing immediate response, please call 1-800-554-5738.
ARKANSAS DEPARTMENT OF HEALTH COVID-19 WEBSITE
Watch Wednesday's May 13, 2020, News Conference with Governor Asa Hutchinson