Officials gathered at Petit Jean State Park today for a ribbon-cutting and dedication ceremony for the Dr. T.W. Hardison Visitor Center in Morrilton. The newly constructed building, which provides space for camper registration, interpretive exhibits, meetings, special events, and staff offices, is named for the man whose vision for Petit Jean State Park brought about its creation as the cornerstone in the system of Arkansas State Parks.
In 1907, Dr. T.W. Hardison was a contract physician for the Fort Smith Lumber Company when he accompanied lumbermen on their inspection of the area surrounding the Natural Bridge in Petit Jean's Seven Hollows area. As they debated the cost of logging such a remote and rugged area, Dr. Hardison later recounted that it occurred to him that "the trees might as well be left to live out their lifespan unmolested by axe and saw, and the area converted into a park." By 1919, he and his wife had made their home on Petit Jean Mountain, and his leadership led to the establishment of Petit Jean State Park in 1923.  
"It is a privilege to dedicate this building in honor of the man whose vision was the seed for our system of Arkansas State Parks," said Governor Asa Hutchinson. "Anyone who has ever hiked a trail, fished in a lake, or pitched a tent at one of our 52 state parks owes Dr. Hardison a debt of gratitude."
The Dr. T.W. Hardison Visitor Center is designed in a style that echoes the rustic style used for the original buildings of the park, which were built from 1933 to 1938. Fennel Purifoy Architects designed the building, and Kinco Constructors built it at a total construction cost of $6,995,670. Funding for construction came from the Amendment 75 Conservation Fund and a grant from the Arkansas Natural and Cultural Resources Council.
At the building's entrance will be a life-size foundry-cast bronze figure of Dr. Hardison, sculpted by artist Andrew Jumonville of Taylor Studios, Inc., along with an exhibit panel introducing the building's namesake and offering a glimpse into his life's work.
"It was important to us to highlight the work of Dr. Hardison, who was a true visionary and public servant," said Stacy Hurst, secretary of the Arkansas Department of Parks, Heritage, and Tourism. "We are proud to continue his strongly held belief that 'state parks are first and primarily conservation areas.' We keep that idea in mind in all that we do at Arkansas State Parks."
"Petit Jean State Park is a very special place, not only in our park system as the first Arkansas state park but also for our visitors," Arkansas State Parks Director Grady Spann said. "This visitor center not only honors the legacy of Dr. Hardison, but it also honors Petit Jean, its unique features and history, as well as highlighting the important contributions the park ranger plays in all 52 state parks."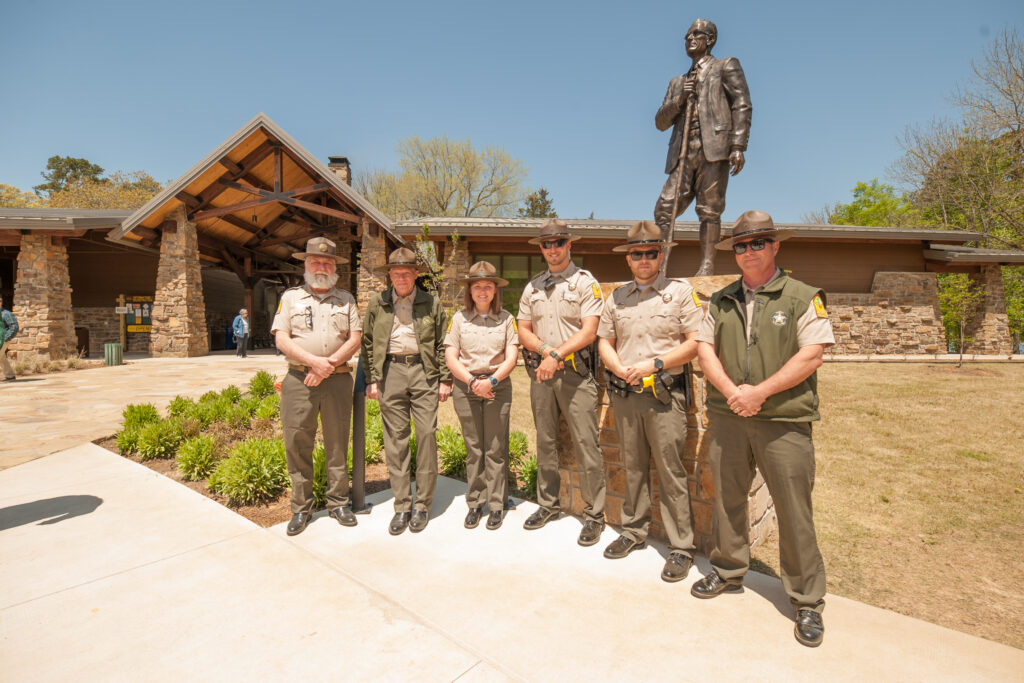 The 11,672 square-foot visitor center houses a reception and exhibit area, gift shop, administrative offices, and a multi-purpose wing. An interpretive exhibit gallery provides guests with an engaging, educational, interactive experience within the visitor center. The gallery entrance is an intentional "wow" experience, as it provides a reproduction of the Natural Bridge, a unique geological feature along the park's Seven Hollows Trail.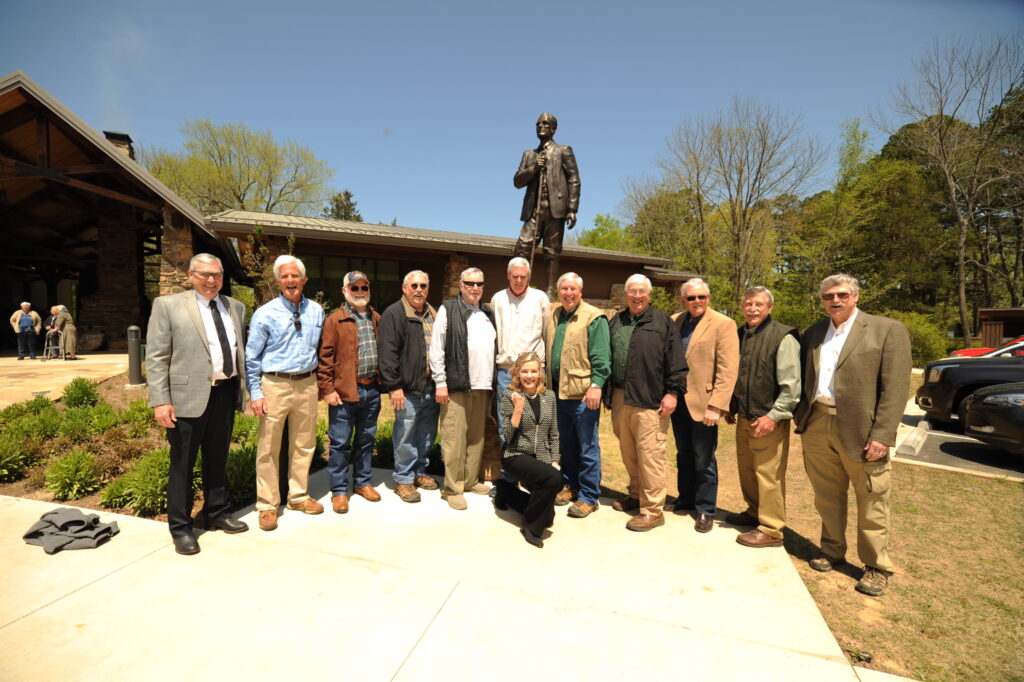 "Inside the exhibit gallery, guests will find explanations of the park's unique geology, hear mini podcasts about park history and nature, and have a hands-on experience learning about wildlife, and native plants. The exhibits are designed for all ages with many hands-on tactile experiences," Chief of Interpretation Kelly Farrell said. "Also, we tasked Taylor Studios to design exhibits with the spirit of universal design, and for accessibility to be a consideration throughout the process. Some of the exhibit components are intentional in providing alternative experiences of the park for those who cannot physically travel to rugged or remote parts of this large park."
Taylor Studios, Inc. of Rantoul, Illinois designed, fabricated, and installed the exhibits, and they are developing an audio description tour of the exhibit gallery that will provide access for guests with blindness or low vision. This feature is set to launch in late spring.
About Petit Jean State Park
Established in 1923, Petit Jean State Park was created to protect and preserve its natural and historical resources for future generations. Petit Jean State Park is Arkansas' first state park located in Morrilton, Arkansas. The park covers 2,800 acres atop beautiful Petit Jean mountain. The park was established in 1923 due to the efforts of Dr. T. W. Hardison and other supporters. The park includes 26 properties listed on the National Register of Historic Places, a natural area, three trails on the National Trails Register, and many opportunities for outdoor recreation.

Petit Jean State Park has 125 campsites, four YURTs, 34 cabins, 24 room historic Mather Lodge, a picnic area, and 20 miles of trails. About 800,000 visitors annually come from all regions of the country to visit this special place. Park staff provide over 1,500 education programs, activities, and special events each year.