LITTLE ROCK—Governor Asa Hutchinson announced today that the Arkansas Historic Preservation Program, an agency of the Department of Arkansas Heritage, has awarded $2,824,799 in grants for projects in 47 Arkansas counties—including Cleburne County—through its County Courthouse Restoration Grant, Historic Preservation Restoration Grant and Main Street Downtown Revitalization Grant programs.
The City of Quitman received a $14,666 Historic Preservation Restoration Grant (HPRG) for roof restoration at the ca. 1910 O.D. Gunn Sale and Trade Barn. The Cleburne County Historical Society received a $9,936 HPRG for restoration work and a preservation plan for the Cleburne County Farm Cemetery. Downtown Heber Springs received a $1,000 Downtown Revitalization Grant.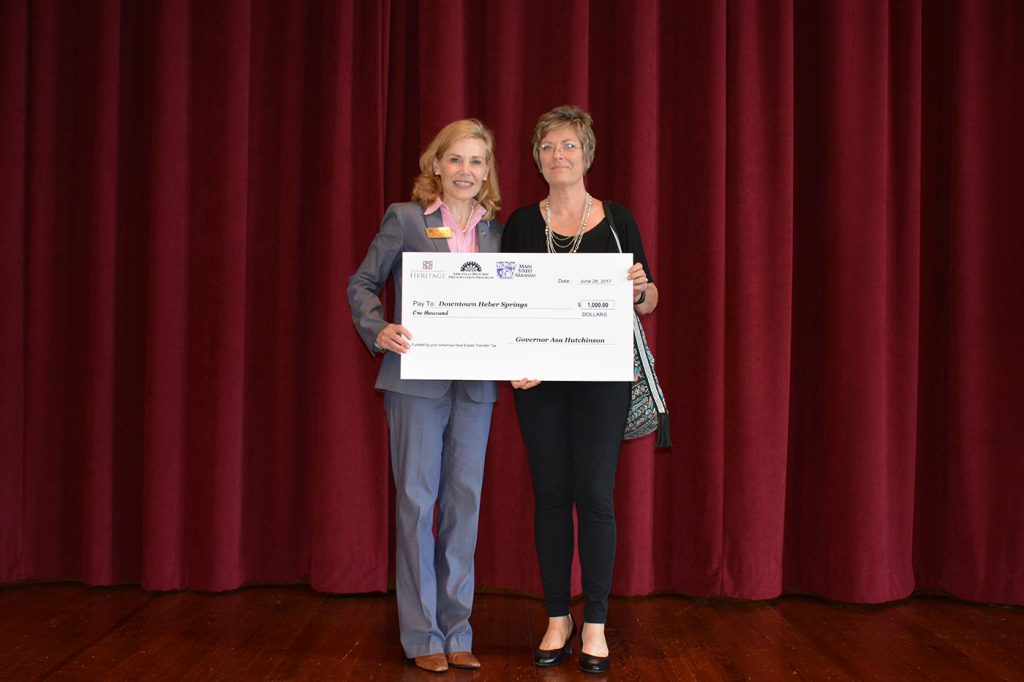 Thirty-one projects shared $960,853 in Historic Preservation Restoration Grants (HPRG), which distribute funds raised through the Real Estate Transfer Tax to rehabilitate buildings listed on the Arkansas or National Registers of Historic Places and owned by local governments or not-for-profit organizations. Grant requests totaled $1,357,911.
Other HPRG recipients, a number of their grants, and the properties to be restored were the City of Searcy, $20,000 for a condition assessment of the Rialto Theater;
Faulkner County Museum, $20,000 for window restoration at the former Faulkner County Jail in Conway;
Old Independence Regional Museum, $53,614 for roof restoration on the former National Guard armory in Batesville;
Cato Historic Church and Cemetery, Inc., $9,999 for monument restoration at Cato Cemetery in Conway County,
Nineteen Main Street Arkansas programs shared $285,000 in Downtown Revitalization Grants, which are funded through the state Real Estate Transfer Tax and are available to accredited Main Street programs for building rehabilitations, parks, streetscape improvements and other design-related projects that will have major long-term impacts in the local Main Street area.
Main Street programs in Batesville,
Searcy,
the Conway Downtown Partnership,
each received $15,000 grants through the program.
An additional $16,000 in Downtown Revitalization Grants was awarded to cities involved in Main Street's Arkansas Downtown Network. Grants of $1,000 each also were awarded to the programs in Morrilton,
Nineteen counties shared $1,562,946 in County Courthouse Restoration Grants, which are financed through Real Estate Transfer Tax funds distributed by the Arkansas Natural and Cultural Resources Council for rehabilitation of historic county courthouses across Arkansas. Funding requests totaled $4,618,440.
Counties receiving courthouse grants were Jackson, $87,840;
and Van Buren, $12,500.
For more information on the AHPP's grant programs, write the agency at 1500 North Street, Little Rock, AR 72201, call the agency at (501) 324-9880, send an e-mail to info@arkansaspreservation.org or visit www.arkansaspreservation.org.
The Arkansas Historic Preservation Program is the agency of the Department of Arkansas Heritage responsible for identifying, evaluating, registering and preserving the state's cultural resources. Other agencies are the Arkansas Arts Council, the Delta Cultural Center in Helena, the Old State House Museum, the Arkansas Natural Heritage Commission, the Mosaic Templars Cultural Center, the Historic Arkansas Museum and the Arkansas State Archives.