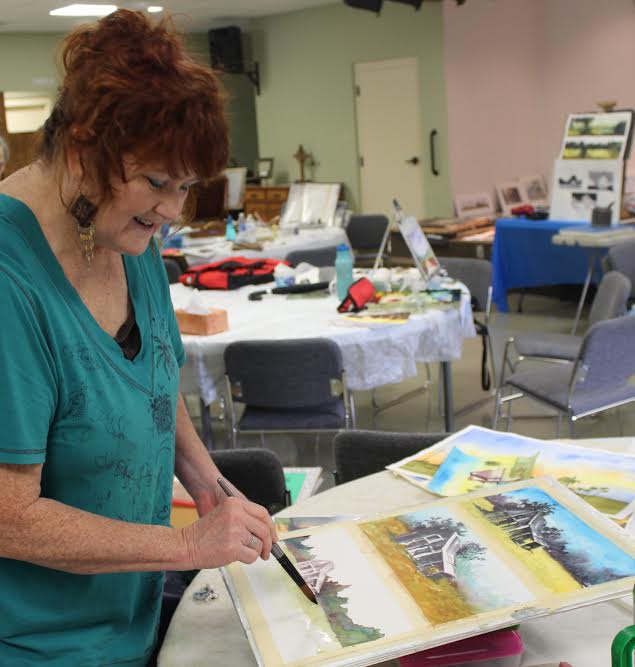 For those of you who feel you can't draw a straight line, Sue Pico will present a free participating demonstration on the "Proportions of the Human Figure" Monday, September 19th, from 10 to 11:30 at Fairfield Bay at Bayside Studio located at the corner of Highway 330 and Greenwood Rd. You are invited to bring paper and pencil and join members of the Artist League for this creative morning sponsored by the North Central Arkansas Artist League. Coffee and refreshments will be available at 9:30 a.m.
Sue says, "If you have struggled with drawing or painting the human figure, you are not alone. You're in good company: Da Vinci and Michael Angelo struggled, studied, and eventually succeeded.
Sue will talk everyone through how the figure stacks up and provide lots of tips to keep future portrayals looking accurate.
She adds, "Everyone will draw with me as we talk through the 'typical' proportions of the human body – you have to know the norm to be able to correctly draw the individual. We'll discuss how the body bends, placement of hands and feet. Hopefully it will be engaging, entertaining, and educational! I'll encourage everyone to ask questions and we'll figure out the answers together."
Sue is a Summa Cum Laude graduate from Northern State University of Aberdeen, SD with a double major in Fine Arts and Cumulative Art Education (K through 12 grade). She has involved children and adults with the arts in public and private schools, churches, and private venues in South Dakota, Hawaii, Louisiana, and now Arkansas. She is currently a member of the North Central Arkansas Artist League, the Poets of the Lake, the Troubadours (a readers theater performing arts group), and spent 10 years as executive director of the North Central Arkansas Foundation for the Arts and Education. Her personal art focus is pen and ink and watercolor.
The Artist League provides free public art programs at Bayside every third Monday of the month, inviting members, guests, and anyone interested in art to join in the creative fun. Members also paint together each Monday, hang art exhibits in public places, and sponsor workshops by professional artists.
Coming up on October 17 is a free public member-share program on "Making Christmas Cards" and on October 25 and 26 is a two-day workshop by Caren Garner of Hot Springs.
For more information on the League or programs, call President Charlotte Rierson at 884-6100.