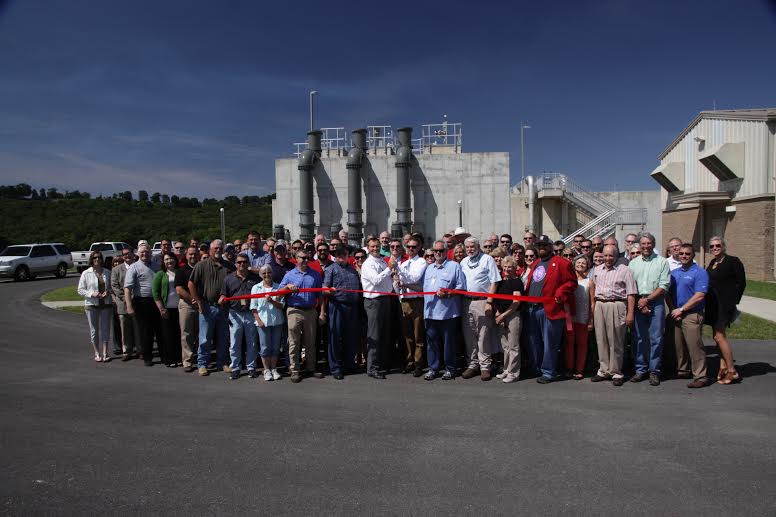 The Batesville Area Chamber of Commerce (BACC) held a ribbon cutting ceremony for the Batesville Wastewater Treatment Facility on Thursday, June 9. The facility is located at 500 River Bank Road.
Mayor Elumbaugh addressed the audience, thanking the citizens, the engineering firm McGoodwin, Williams, and Yates, and key personnel who led the project. Damon Johnson, City of Batesville engineer, also spoke giving facility operation and function details to the crowd. Most notably, he was proud to announce the facility's treatment capacity was expanded from 4 million gallons per day to 9 million gallons per day. Johnson also thanked the citizens of Batesville for the 1% sales tax that was approved by voters in 2009. This tax has funded sewer improvement projects while keeping sewer rates competitive for Batesville Water customers.
The Batesville Wastewater Treatment Facility expansion is crucial to the economic success in Independence County and allows the area to continue to recruit and retain industry. Johnson said, "With this expansion we now have extra treatment capacity that can be filled with new industrial and commercial users. This sets the stage for continued growth in our community." This facility is just one of many projects the City of Batesville has undertaken in the last few years to create a positive environment for growth in Batesville and Independence County.
Ambassadors in attendance included Cliff Brown (First Community Bank); Deann Castleberry (North Arkansas Home Care); Kyle Christopher (Centennial Bank); Jennifer Corter (City of Batesville); Ashley Engles (Citizens Bank); Julie Hinkle (Southern Bank); Michael Johnson (Anytime Fitness); Justin Ledbetter (First United Methodist Church); Tracy McClurg (Citizens Bank); Kyle McMullin (Independence County Abstract); Michael Moody (Modern Woodmen of America); Bill Oliva (Community Insurance Professionals); Tina Paul (UACCB); Randy Seale (WRD Entertainment); Robin Milligan (Eagle Mountain Assisted Living); and Joel Williams (Main Street Batesville).