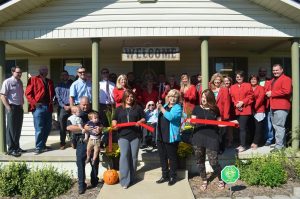 The Batesville Area Chamber of Commerce (BACC) held a ribbon cutting ceremony for Cottage Cuts on Tuesday, September 20. Cottage Cuts is located at 908 Sidney Street.
Cottage Cuts is a salon offering cuts, color and so much more! Owner Deborah Cockrill is excited to be part of the community. They are open Tuesday through Friday, 9 a.m. to 5:00 p.m. and Saturday from 9 a.m. to 12 p.m. For more information about Cottage Cuts, call (870) 569-8102 or check them out on Facebook.
Ambassadors in attendance included Pasha Alexander (Centennial Bank); Robin Milligan (Eagle Mountain Assisted Living); Alex Patrono-Smith (Lyon College); Deanna Green (Survival Flight); Michael Johnson (Anytime Fitness); Michael Moody (Modern Woodmen); Shelby Dobbs (Scott Wood); Ashley Engles (Citizens Bank); Julie Hinkle (Southern Bank); Danna Magness (MC Rentals); Tracy McClurg (Citizens Bank); Kyle McMullin (Independence County Abstract); Bill Oliva (Community Insurance Professionals); Lisa Pinkston (Network of Community Options); Randy Seale (WRD Entertainment); and Joel Williams (Main Street Batesville).
About The Batesville Area Chamber of Commerce:
The Batesville Area Chamber of Commerce is the leading voice of business in Independence County, providing advocacy, promotion and resources for chamber members. The Batesville Area Chamber of Commerce sets the standard for excellence in member service, community collaboration, business growth and achieving a high quality of life in the Batesville area.