Warren Stanley Wood II was born on December 8, 1927, and left this Earth on July 20, 2021, at the age of ninety-three years, seven months, and 12 days. Stan (as he liked to be called) was born in Tillar Arkansas, the son of Stanley Hammock Wood and Blanche Hodgson Wood. Blanche wanted her only son to be named after his father while Stanley H. wanted to name him after his father. The compromise was to name Stan after his grandfather but call him Stan Jr.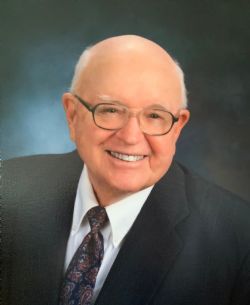 When Stanley Sr purchased the local Chevrolet dealership, Stan moved with his family to Batesville at 12 years old and was a Batesville resident for the remainder of his life. As a youth, he was charged with sweeping out the dealership every morning before school and he never relinquished that task for the duration of his life-long working career at the Chevrolet Place. He also raised chickens and sold eggs in the dealership showroom during World War II to aid in the war effort. At 16, he and three other Batesville boys journeyed to Idaho for the summer where they worked for the U.S. Forest Service planting trees and fighting forest fires because there was a shortage of manpower due to the War.
Stan graduated from Batesville High School and then from the University of Arkansas in Fayetteville where he was a member of the Sigma Chi fraternity. It was there that he met the love of his life, Mary Jeanette Wood (no relation) of Harrison, AR. They married on April 9, 1949, and began a 71+ year journey together.
Upon graduation from U of A in 1948, Stan rejoined his father in the family business, Stanley Wood Chevrolet. They added Pontiac in 1959. He was named dealer principal in 1970 and to hear him tell it he never officially retired. Service was an important part of his life, having served as Scoutmaster, Sunday School teacher, Arkansas Auto Dealers Association board member, Chevrolet Dealer Council member, Batesville Utilities Commission member, and Batesville City Councilman. He was recognized for his service to the community by being named King White River in 2009. Though he was a Baptist most of his life, he became a member of First United Methodist Church late in life.
Stan's love for the outdoors was manifested in his enthusiasm for quail hunting, boating, and especially golf. Boating and houseboat life on Greers Ferry Lake was always a favorite family activity.
He was preceded in death by his parents and his wife Mary Jeanette.
Stan is survived by his three children, Scott Wood (Myra Looney), Janet Wood, and Karan Wood Skinner (J.T.) all of Batesville. Ten grandchildren; Stanley C. Wood (Lynn), Brian Kendall (Stephanie), Damon Johnson (Crystal), Julie Anna Skinner Taylor, Laura Wood Brissey (Phil), Jennifer Wood Cooksey (Brandon), Karan Kendall Pierce (Jeff), Jesse Skinner Freiert (Jeffrey), Woody Skinner (Bess), and Mary Wood Cox (Casey). Nineteen great-grandchildren: Joshua Wood, Zachary Wood, Timothy Wood, Hattie Johnson, Luke Brissey, Mark Brissey, Aiden Gieskieng, Liam Gieskieng, Bryce Cooksey, Rhece Cooksey, Hodgson Cox, Athalia Cox, Preston Kendall, Caroline Kendall, Reed Pierce, Ben Pierce, Howell Taylor, Lily Gillihan, and Georgie Freiert plus a host of relatives and friends. Stan and Mary Jeanette were both only children and were always proud of their large family.
There will be no formal visitation because of the resurgence of COVID-19. A graveside service will be held at the family site in Oaklawn Cemetery in Batesville on Friday, July 23, 2021, @ 10:00 AM. Pallbearers will be his grandsons and grandsons-in-law. Memorials may be made to your favorite local charity.