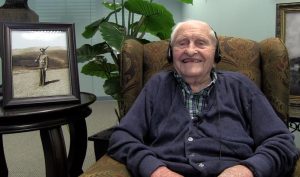 U.S. Senator John Boozman (R-AR) recognized the service and sacrifice of WWII Army veteran Paul Lux in 'Salute to Veterans,' a series recognizing the military service of Arkansans.
Lux was born on December 21, 1917 and raised on his family's farm in Subiaco where they grew cotton, corn, wheat and grain. Wanting to experience more than what farm life had to offer, he joined the military and embarked on an adventure he still reflects on with humor and gratitude.
In 1939, Lux enlisted in the Army. "I just thought I'd like the Army. And I did. I loved the Army," Lux said.
He wasn't fond of the drilling so he sought a cooking position and was assigned to be first cook. "I never cooked a day in my life. I couldn't boil water," he laughed. His on-the-job training taught him well as he worked his way up to mess sergeant.
Lux has great memories of the friends that he made while serving in uniform. He fondly recalls the fun he had with his pal Joseph McNamara, a supply sergeant. "He and I had a party every night," he laughed.
Letting loose was necessary to cope with the reality of the situation Lux and his fellow troops were in. "I could hear the guns shooting and going off. I was writing a letter home. I figured that's probably my last letter. The next day we went into combat. That was rough."
Lux recalled the generosity of a Belgium woman and her daughters who gladly accepted coffee from the mess truck. In exchange for this rare luxury, the family gave Lux and his friends a private bed to sleep in.
The enthusiasm Lux had for his time in uniform continues to show more than seven decades after he was discharged. He laughed a lot as he recalled his memories with McNamara and his fellow service members, including a friend from Jonesboro who made the mistake of taking off his shoes before falling asleep on a train. "While he was asleep I sold his shoes," Lux laughed.
After his discharge, Lux returned to Subiaco where he met his wife Ann. The couple raised six children in Fort Smith where Lux worked for Railway Express.
"I appreciate Paul Lux's service to our nation. Military service has a different effect on every servicemember, but Paul's attitude about his time in uniform and the experiences he had still resonate with him strongly over a half-century later. His memories of his military service are an important part of his own legacy as well as our country's history and I am pleased to be able to collect, preserve and share his stories," Boozman said.
Lux's entire interview was submitted by Arkansas Attorney General Leslie Rutledge's office to the Veterans History Project, an initiative of the Library of Congress's American Folklife Center to collect and retain the oral histories of our nation's veterans.