Citizens Bank has donated $3,000 to the Humane Society of Independence County, on behalf of the 2020 Red Hot Ladies Luncheon. "The mission of the Humane Society is to rescue and provide a safe shelter for abandoned, abused, homeless and unwanted dogs and cats within the county, and to secure loving, stable homes for them," said Phil Baldwin, Citizens Bank Chief Executive Officer. "Citizens Bank is proud to support these important services to our local communities."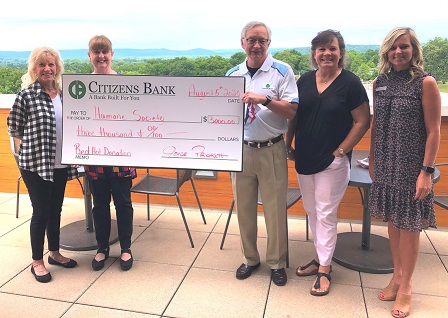 The Humane Society was to have been the beneficiary of the 2020 Red Hot Ladies Luncheon, which was canceled due to the COVID-19 outbreak. The annual luncheons provide a social outing for local women, and also raise awareness about various issues impacting their lives.
Citizens Bank has presented the popular events since 2006, raising nearly $130,000 to support various non-profit organizations in Batesville, Independence County, and surrounding communities. The Humane Society will be the beneficiary of the Red Hot Luncheon in 2021. "We appreciate the generous sponsors who help make the Red Hot Ladies Luncheon possible, and we are also grateful to everyone who attends each year," said Joyce Prickett, who helps coordinate both the Red Hot luncheons and the Blue Jeans Fund for the bank. "Many Citizens Bank employees also volunteer and donate to the Humane Society and its animal shelter."
Current donations and adoption fees don't cover the more than $20,000 that is needed each month to operate the shelter, house, and feed animals. The Humane Society receives no government funding and is dependent on donations, membership dues, fundraising activities, grants, and income from its Bargain Hound Boutique.
Cash donations can be mailed to the Humane Society of Independence County, P.O. Box 3477, Batesville, AR 72503, or in person at the shelter at 5 Environmental Drive in Batesville.
The Humane Society also accepts donations of pet food, and supplies such as cat litter, cloth towels, paper towels, plastic bags, and trash bags.