Cobblestone Inn & Suites in Fairfield Bay
There are many exciting 'firsts' happening in Fairfield Bay, but perhaps none so full of promise as when BD Alliance and DMC International, LCC both of Birmingham, Ala. announced contracts have been signed for the construction of a new 63-room, four-story Cobblestone Hotel in Fairfield Bay. The hotel location will be in the heart of Fairfield Bay at 100 Lost Creek Parkway, next to the Fairfield Bay Conference and Visitor Center.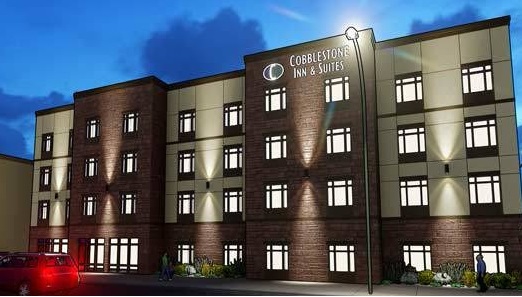 (Above) a drawing of the new Fairfield Bay Hotel
The signing took place Wednesday in Memphis and cheers went up around Arkansas, and most especially from every corner of Fairfield Bay as this momentous community opportunity gets its start.
Thursday, a small gathering of the Fairfield Bay Community Club and Fairfield Bay City leaders met in celebration and to share congratulations with Mayor Paul Wellenberger on this incredible achievement. Mayor Wellenberger, points to a community of citizens and a great team all the way around for this crowning achievement. The best is yet to come. "It was a tremendous amount of team effort," Mayor Wellenberger said. "No telling what you can do when we're all working on the same page. We are so powerful. When 2338 people are working on something, there is not anything we can't accomplish and that's what it takes to be great. And that's happening in FFB."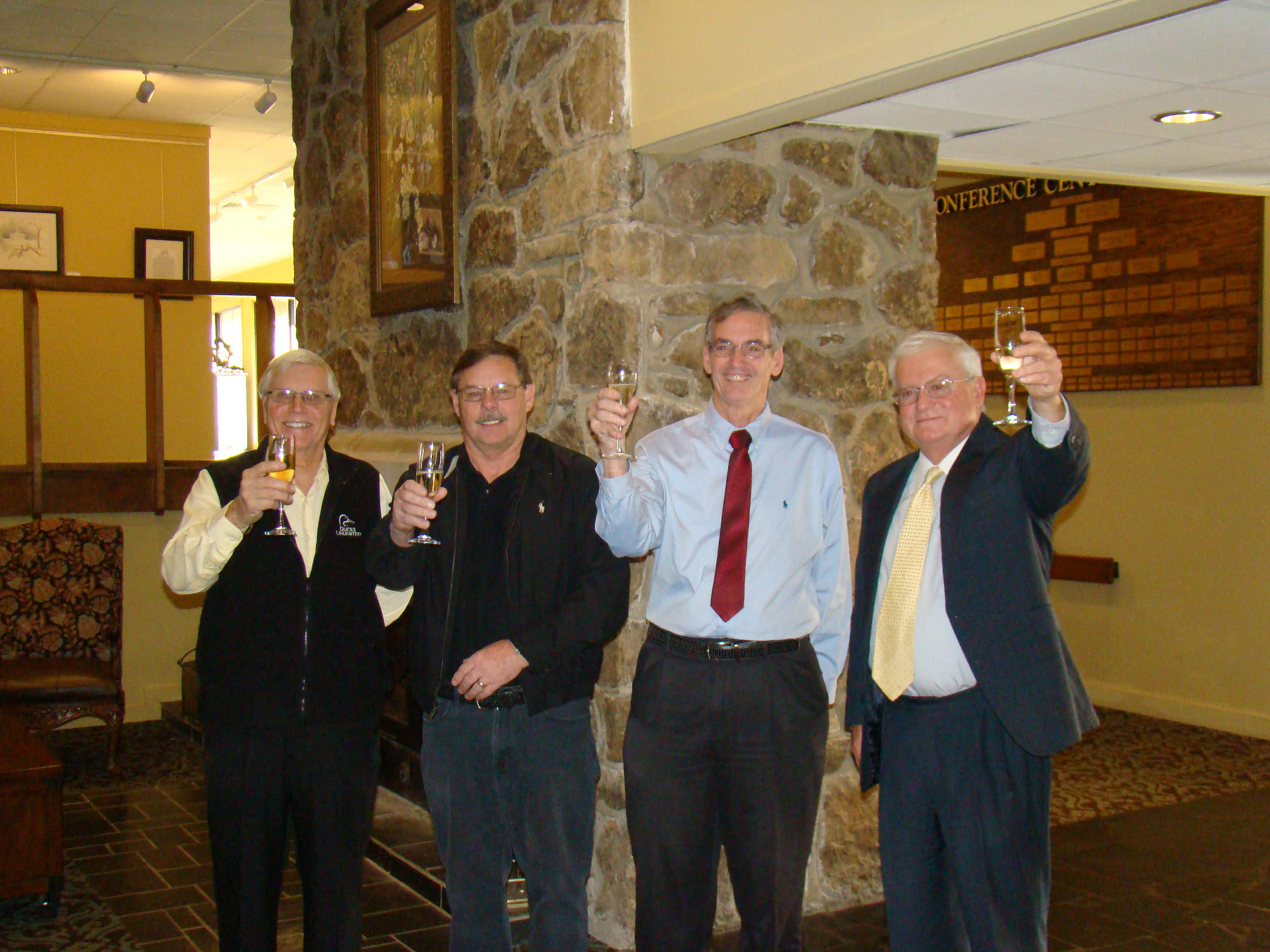 (Above) Toasting to Fairfield Bay's signing for a New Cobblestone Hotel coming in 2018, are (left), Ken Schuette – Fairfield Bay Community Club Past President and Team 2035; Jack Weeks – Fairfield Bay Community Club President and Past Chamber President; Paul Wellenberger – Fairfield Bay Mayor; Rocky Nickles – Fairfield Bay Community Club General Manager.
The Cobblestone Hotel four-story properties give a wonderful sense of arrival. Designed around small town USA Main Street charm, Cobblestone properties feature state of the art technology, whether staying for business or vacation. Based in Neenah, Wis., Cobblestone Hotels is an upper-midscale hotel brand with more than 134 hotels open, under construction or in development in 18 states. This will be their first hotel in Arkansas. Signature amenities include high-speed Internet access, complimentary hot breakfast, convenience store, fitness centers, business centers, and more.
The hotel design will be very close to the Cobblestone Hotel located in Chippewa Falls, Wi. BriMark Builders will be responsible for the construction and once completed, the Cobblestone location will be operated by WHG professional hospitality management. Financing for the hotel project was done through Centennial Bank in Heber Springs.
So what does having a hotel really mean to Fairfield Bay and surrounding communities? A few of Fairfield Bay's community leaders shared their excitement.
"The hotel is a game changer in Fairfield Bay", says Rocky Nickles, Fairfield Bay Community Club General Manager. "This gives our visitors another choice in overnight accommodations. We will now have the opportunity to quickly reserve a hotel room in addition to the many condos and homes that are available to rent.
"Economically, the hotel will spur additional business. A successful hotel will bring more conferences. It could also entice a full-service restaurant to the area as well as more retail shopping opportunities – ultimately attracting more visitors to the Bay. We can't wait to get started and see what the future holds."
"The addition of a hotel in Fairfield Bay only adds to, and enhances, the continual advancement of our entire community," said Ken Schuette, Community Club Past President, Team 2035. "This adds to our successful growth, taking the initiative from our many staff members and volunteers who make sure our residents and guests of all ages have the opportunities that will meet their needs."
A Ground Breaking Achievement.
There's so much more to come and all signs point to having a hotel up and running in 2018. As we looked at what it means to Fairfield Bay and our neighbors, we reached out to the one person who has been at the heart of this vision and drive for a hotel and got a little one on one with Mayor Paul Wellenberger.
Q: You've been mayor since 2011, and from day one you recognized the need for a hotel in Fairfield Bay. Coming close a few times. Can you tell us a little about that journey?
A: I have been mayor since January 1, 2011. A hotel has always been a growth goal. But our first priority was to repair and reopen the conference center, which had been closed and in serious need of attention. It's the heartbeat in our community. On our main thoroughfare into Fairfield Bay, the disregarded, lackluster building sent the wrong message as people were being welcomed into Fairfield Bay. In June of 2011, Herman Waters, owner of the conference center, donated it to the City of Fairfield Bay. In May of 2012, I was invited to travel to Austin to make a presentation to the US Department of Commerce Economic Development Administration to request funding for repairing the conference center. The combination of the grant funds, generous donations from our citizens, and lots of sweat equity allowed us to reopen the conference center in October of 2013. The excitement and acceptance of the reopened and 'better than before' conference center was overwhelming. The demand for conferences was immediate, and the reviews and food offerings outstanding. However, the lack of close lodging to the conference center was a roadblock with conference planners. The common theme was "We really want to have our conference in Fairfield Bay, let us know when you fix your lodging problem." We have lost tens of thousands of lodging nights due to this shortfall. Not only does this beautiful hotel "fix" a major concern, we'll be poised to leapfrog into a commanding destination position. The 40-120 size conference planners are seeking newer, more deluxe accommodations with team building activities and family-friendly recreation opportunities out their front door. We will be on a fast track to becoming the destination every conference planner will want to secure. Not only is Fairfield Bay back, it is newer and better than ever."
Q: What was different about this investor?
A: Over the year, several potential investors came to town and were actively interested. The biggest issue was that this was the first hotel in Fairfield Bay and there just are not any other Fairfield Bay hotels that could show actual occupancy rates. There were always other hotel opportunities that they considered lower risk (one group based in Little Rock, had lots of data to show that Little Rock could absorb another hotel). The difference in these investors is they were looking for a unique opportunity to improve a community and offer them a reasonable opportunity for a good return. For this group, it was not just about the lowest risk opportunity, they were not afraid to make their own assessment, based on data we offered them and the feel they had for this great community. The most important trait of these investors is they want to make a difference and they are not afraid to trust their own instincts. They loved what they saw; they loved every person they met. They loved the recycling center, the gardens, the pristine of the roads, they loved how they were treated everywhere they went. We are powerful together and when you have 2338 people working on something there is not anything we can't accomplish. That's what it takes to be great. And that's happening in FFB.
Q: When do you think the groundbreaking will be?
A: Fingers crossed! I definitely believe we will break ground in the next month. I expect to have a date soon.
Q: What are some of the key next steps?
A: The important next steps are to get the engineers and architects on site to develop the master build drawings, plans, and schedule. We are looking forward to having them here soon.
Q: What do you think this new hotel means for FFB and the surrounding being community.
A: As someone who attends many conferences, the Cobblestone Hotel will give Fairfield Bay a huge competitive advantage over mid-size conference centers around Arkansas. We already had superior food, a superior conference center, and a superior staff. Now we will have superior accommodations. Once conference planners and attendees come to Fairfield Bay and enjoy our amenities and unique experiences, they will want to come back year after year. It also gives the ability to offer one night stays, online booking, and more reasonable cancellation policies for weddings, family reunions, and other special occasions. It will provide a boost to our local economy and undoubtedly spur new businesses and residential growth. This is really great news for all of Fairfield Bay. It brings new jobs. Also, when regional cities have major events like the Chuckwagon Races, they won't have to send people outside of this County to find great lodging. And we're excited to get started.