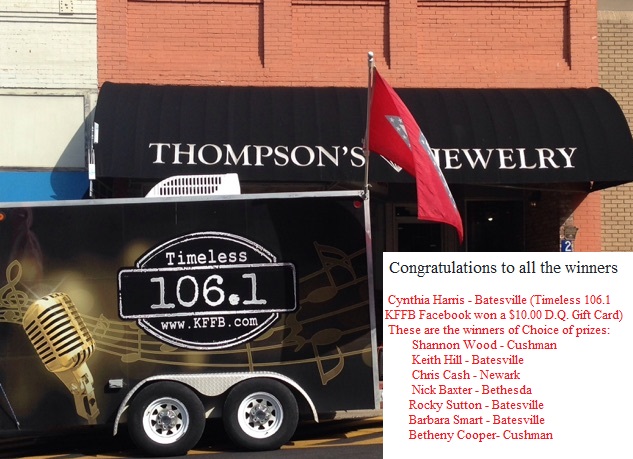 Congratulations to all the winners from our live broadcast at Thompson's Jewelry in Downtown Batesville.
Cynthia Harris – Batesville (Timeless 106.1 KFFB Facebook won a $10.00 D.Q. Gift Card)
These are the winners of Choice of prizes:
Shannon Wood – Cushman
Keith Hill – Batesville
Chris Cash – Newark
Nick Baxter – Bethesda
Rocky Sutton – Batesville
Barbara Smart – Batesville
Bethany Cooper- Cushman
from Thompson Jewelry in Downtown Batesville, The winners, first come first serve, get their choice of one of the following Prizes: 1. FOUR HOUR SKI BOAT OR PONTOON RENTAL AT FAIRFIELD BAY MARINA
2. Prime Rib Weekend Dinner for Two at The Little Red Restaurant in Fairfield Bay
3 .Arrow's Cafe & BBQ in Heber Springs
4. Bentley's Restaurant in Greers Ferry
5. 18 Holes of Golf for Two at Indian Hills Golf Course
6. Cool Pool Package for Four plus a $50.00 Gift Certificate to the Souvenir Shop
7. Family Recreation Package for Four Miniature Golf, Bowling, 18 holes of foot golf and A Sugar Loaf Shuttle!