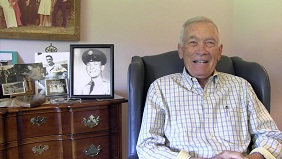 U.S. Senator John Boozman (R-AR) recognized the service of Korean War veteran Clement (Clem) Kordsmeier in 'Salute to Veterans,' a series recognizing the military service of Arkansans.
Kordsmeier was born in Morrilton, Arkansas in 1931. He was raised on his family's farm with his ten brothers and sisters. By 1952, Kordsmeier had received two draft deferments while helping his dad on the farm. This prompted his decision to enlist in the Air Force before being drafted into the Army.
Kordsmeier's mother was reluctant to bless her son's decision, because she had lost one of her children, Hubert, a command pilot on B-29s in a crash outside of Tokyo in 1945. "I assured my mother that I would not be in an airplane," he said.
Kordsmeier attended basic training at Lackland Air Force Base in San Antonio. It was the first time he'd left Arkansas. "I was shocked at the very poor quality of barracks," he laughed. "It was quite different from home."
He attended petroleum specialist school in Tillamook, Oregon and was hoping for a stateside assignment, but learned he would be going overseas after his training.
"I told them I gotta go home because I plan to get married," he said. Kordsmeier and his girlfriend, Florence, had set their wedding date for June 13. As luck would have it, he couldn't get back to Arkansas until a week later, so he and Florence were married on June 20. He didn't have much time to spend with his new bride because he had to ship out to Korea soon after.
Kordsmeier was assigned to the 19th Air Division, 824th Air Base Group, 824th Supply Squadron at (K-55) Osan Air Base, Korea. It was the only base on the peninsula entirely planned and built by the U.S. Air Force during the Korean War. Kordsmeier worked in the petroleum supply section, refueling F-86 aircraft that were flying missions over Korea. "At the time, the war was near the end, and I was sure happy about that," he said.
Kordsmeier interacted with the locals who laundered the airman's clothes. "One person asked me if I wanted to buy a hat." Kordsmeier agreed to purchase a baseball-type hat and selected details that represented his time in Korea. The cap, which says K-55, the name of the airbase, is still part of his memorabilia of time in the service.
When his year-long tour ended, he was looking forward to a quick return home, but it took 27 days to reach Seattle, Washington. From Washington he was able to secure the last available ticket that had a route to get him to Little Rock. "I felt there was an angel looking after me," he said.
Kordsmeier remained in the military after he returned stateside and volunteered to serve in North Africa on a 30-day temporary duty mission. He was excited to explore Casablanca, but his time to sightsee was limited. "Two days after we got there, the provost marshal of that base was shot by civilians while he was en route to downtown," Kordsmeier said. He was confined to the base thereafter.
After completing four years of service in the U.S. Air Force, Kordsmeier was honorably discharged as a staff sergeant in 1956. He and Florence raised their four children in Conway and he worked for Hambuchen Home Furnishings, where he retired in 1996.
"I am grateful for Clem Kordsmeier's dedication and service to our nation. His memories of military service are an important part of our history and I am pleased to be able to collect and preserve his stories," Boozman said.
Boozman submitted Kordsmeier's entire interview to the Veterans History Project, an initiative by the Library of Congress's American Folklife Center to collect and retain the oral histories of our nation's veterans.
The Arkansas Democrat-Gazette featured Kordsmeier's interview for the Veterans History Project in this article.