Dark Threat Fabrication (Dark Threat Fab), a one-stop full-service metal fabricator, today announced that it will expand its facility in Heber Springs (Cleburne County). Dark Threat Fab plans to add 75 new jobs over five years to its current workforce of 20, bringing total employment to 95 people. To accommodate the larger workforce and the increasing contract opportunities, Dark Threat Fab also plans to invest $7.65 million in building improvements and construction as well as the purchase of additional equipment.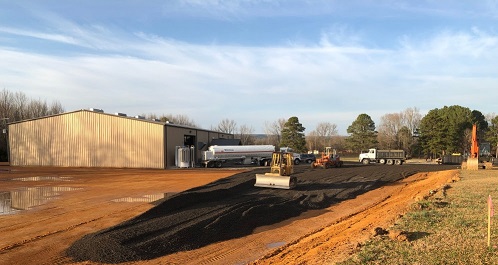 "We are blessed to have the opportunity to live and work in such a beautiful state," said Andrew Roberson, company owner, and lead engineer. "Our dedication to providing first-class metal fabrication services to our customers is reflected in the products and solutions we provide. We look forward to increased growth driven by our willingness to embrace new technologies as well as providing an inviting work environment."
Dark Threat Fab is a family-owned company located in the heart of north-central Arkansas. Founded in 2013, the company is making a name for itself in the metals sector in such services as engineering, laser cutting, metal forming, powder coating, and welding.
"Dark Threat Fab is a great example of the spirit of entrepreneurism that is alive and well throughout Arkansas," said Gov. Asa Hutchinson. "By adapting to the ever-changing needs of its customers, Dark Threat Fab has undergone tremendous growth and success. I am looking forward to watching them enter this next phase of prosperity."
The expansion will add an additional 32,000 square feet to their operations which will allow Dark Threat Fab to increase capacity and augment sales with both current and potential customers.
"The jobs being created by Dark Threat Fabrication will increase economic opportunities for families throughout Cleburne County," said Secretary of Commerce Mike Preston. "I want to thank the company for its confidence in the workforce in north-central Arkansas as well as its strong ties to the Heber Springs community."
Dark Threat Fab plans to begin construction within the next three to six months with completion scheduled by the fourth quarter of 2022. Hiring is already in process.
For more information about the company and to see available jobs, visit www.darkthreatfabrication.com.