Get away from the fuss and flurry of the modern city and come to where holidays are about people and craftsmanship is done by hand. Shop the Ozark Folk Center State Park Craft Village during the Ozark Holidays Craft Show on November 27, 2021, from 10 a.m. to 4 p.m. Admission is free. Artisans will be set up in their workshops. Guest crafters will be in shops throughout the Village.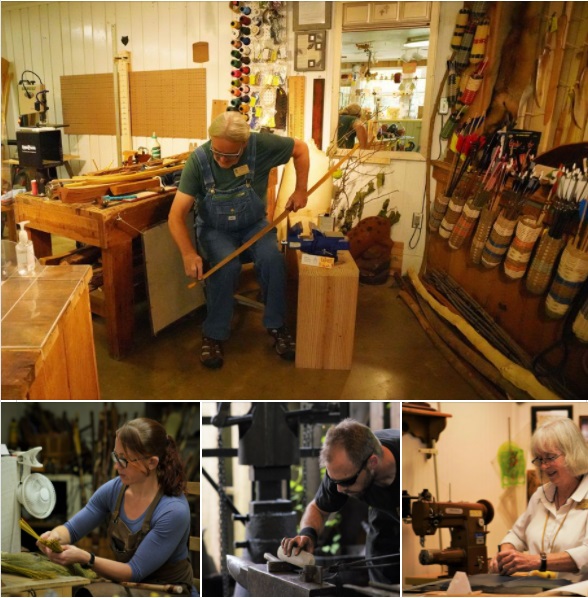 Entrance to the Village is through the gates below the Administration Building or below the Ozark Highlands Theater. Parking is available next to the gates.
Shops include the Village Apothecary, with soaps, lotions, salves, and more; Havencroft Brooms; Widmer's Jewelry Shop; Uncle Joe's Bows hand-carved Archery Bows; Crossed Arrows Trading Company Leather Works; Turkey Creek Creations Stained Glass; Scrap Happy Quilting: Perry/Munn Pottery; stone thrower Forge & Stone to Steel Handmade Knives; Copper Colorists Flame Painted Copper; the Old Time Print Shop; Rock, Paper, Scissors; Ozark Iron Blacksmithing; Woodcarving & Whittling; Fiber Arts, and more.
It's challenging in today's world to find unique, high-quality, handcrafted items for gifts or for your own household. The Ozark Folk Center State Park is home to more than 30 resident master craftspeople in a variety of fine and functional crafts. Located in Mountain View, Arkansas, the park was founded and continues to perpetuate craftsmanship through workshops, classes, and providing studio space for master craftspeople, apprentices, and students.
The mission of Ozark Folk Center State Park is to perpetuate, present and promote the Ozark way of life
in an educational and enjoyable manner; through craft demonstrations, musical programs, the Heritage
Herb Garden, workshops, and other special events. Visit the website at www.ozarkfolkcenter.com for
more information on classes and the Ozark heritage.