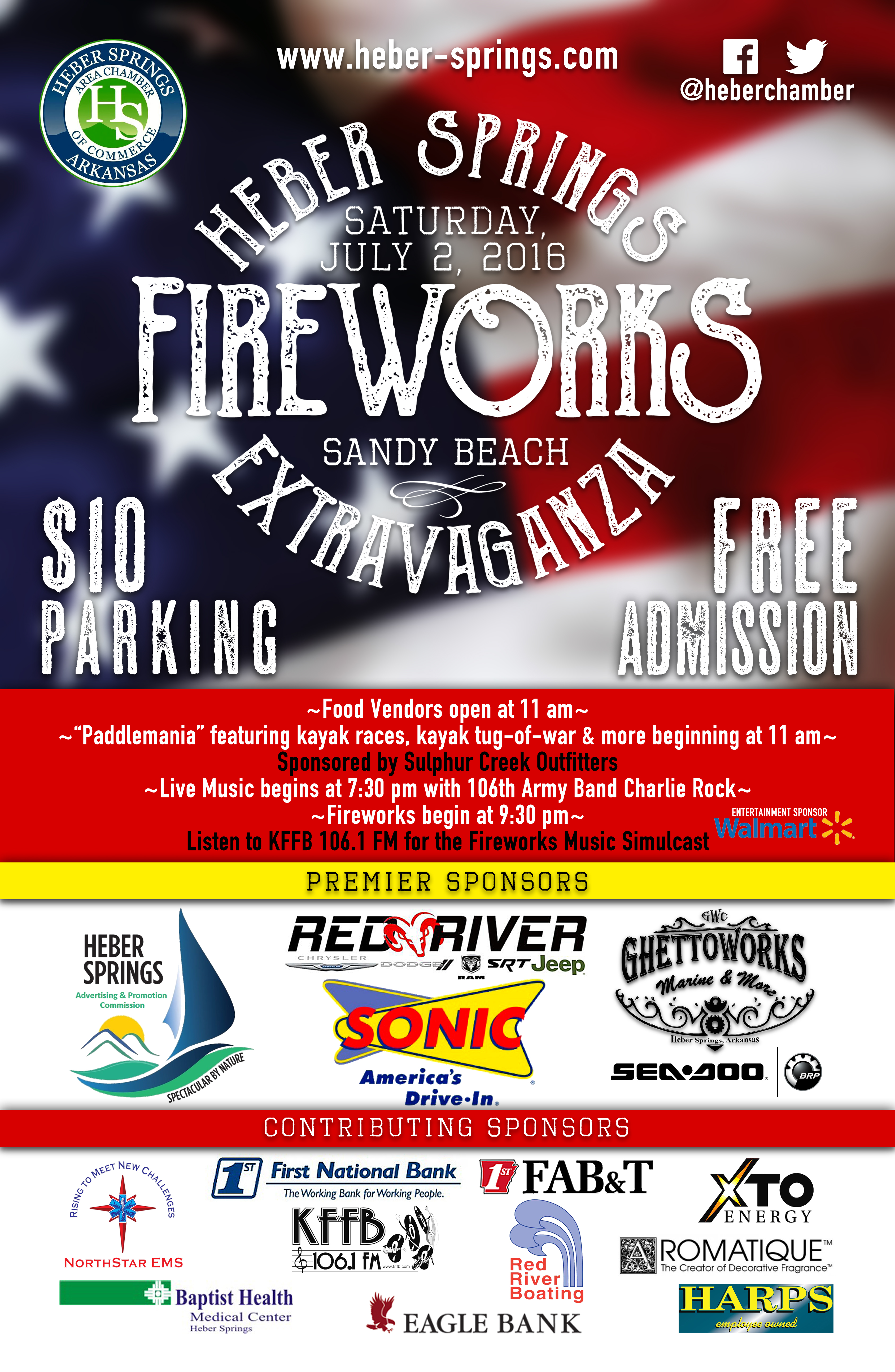 Heber Springs, Ark., May 24, 2016 – The Heber Springs Area Chamber of Commerce announced today that this year's Fireworks Extravaganza is scheduled for Saturday, July 2 at Greers Ferry Lake. A much-beloved occasion with locals and tourists alike, the evening includes a full roster of events and entertainment for the entire family. And new for 2016 is Paddlemania kayak races and kayak tugof-war beginning at 11 am.
The 2016 Fireworks Extravaganza will be held at Sandy Beach on the shores of Greers Ferry Lake. Partygoers will arrive by boat and by car to enjoy kids' activities, food vendors, and live music beginning at 7:00 p.m.
At 9:30 p.m., one of the largest fireworks displays in Arkansas will light the skies above the lake, as thousands of breathtaking fireworks are choreographed to music broadcast on KFFB 106.1 FM. Beautifully mirrored in the lake's surface, the show is equally magical whether viewed by boat or on the shore, and each year's Fireworks Spectacular is better than the last.
It's a quintessentially American tradition to spend Independence Day Weekend celebrating on the water, and it's hard to find a more beautiful, welcoming setting than Heber Springs and Greers Ferry Lake. Enjoy a day of boating, hiking or shopping and exploring the area, before joining the festive crew of holiday revelers to enjoy this local tradition.
The Fireworks Extravaganza is free, although there is a parking fee for those traveling by car. 2016 Fireworks Extravaganza sponsors include Sonic, the Heber Springs Advertising & Promotion Commission, Red River Chrysler Dodge Jeep, and Ghettoworks Marine & More/Sea Doo at the Premier Level, and Aromatique, KFFB 106.1 FM, Harps Foods, Baptist Health Medical Center Heber Springs, Eagle Bank, XTO Energy, First National Bank, First Arkansas Bank and Trust, NorthStar EMS, and Red River Boating at the Contributing Level.
To learn more about the Fireworks Extravaganza, visit www.heber-springs.com or follow the Heber Springs Area Chamber of Commerce on Facebook.
Heber Springs, located 65 miles north of Little Rock, Arkansas, is home to Greers Ferry Lake, the Little Red River and Aromatique Inc., the global leader in home fragrance products. Greers Ferry Lake is consistently named among the top ten cleanest lakes in North America and the Little Red River is the home waters of the third largest brown trout ever caught in the U.S. Heber Springs is known for its limitless outdoor activities including swimming, scuba diving, fishing, hiking, biking and viewing of the rare trumpeter swans that winter there. www.heber-springs.com