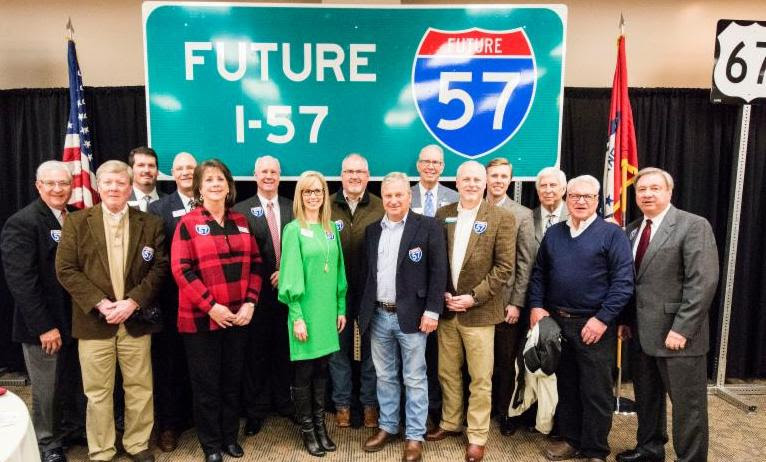 A Future Interstate 57 designation luncheon was held February 24, 2018, at Harding University. This designation establishes U.S. 67 as interstate from I-40 to U.S. 412 at Walnut Ridge.
U.S. Senator Boozman, who serves on the Senate Appropriations Committee, attended the luncheon and said the change would benefit the entire state. "Arkansas has worked for decades to build this road. The time has come to start calling it what it is, an interstate-quality highway that connects Arkansas farms, factories and travelers, to the rest of our country," Boozman said.
The designation of Highway 67 from North Little Rock to Walnut Ridge as "Future I-57 establishes in federal law that the region is on-track to officially add a direct interstate connection from the Little Rock region to Chicago as Interstate 57," Boozman said.
U.S. Representative Rick Crawford also attended the luncheon and was instrumental in making this a reality.
Scott E. Bennett, Director of the Arkansas Department of Transportation, "We appreciate the leadership of Senator Boozman in bringing the designation of the U.S. 67 corridor as an Interstate one step closer to reality. This is recognition of the tremendous investment the Department has made to build U.S. 67 to interstate standards from I-40 to U.S. 412 at Walnut Ridge. Although there is still much work to be done north of U.S. 412, this 'Future I-57' designation should open up more possibilities for economic development."
Buck Layne, President of the Searcy Regional Chamber of Commerce "We are tremendously grateful to Senator Boozman for his leadership and hard work in securing the 'Future I-57' designation for U.S. 67 from Little Rock to Walnut Ridge. The designation of U.S. 67 as a future interstate is an incredible milestone for all communities along and in proximity to this corridor. Resolutions of support for the I-57 Designation have been passed by the Newport Economic Development Commission as well as Chambers of Commerce in Bald Knob, Cabot, Jacksonville, Lawrence County, Newport, Sherwood and Searcy. Other expressions of support have been received from communities throughout the central Arkansas and northeast Arkansas regions.