Kent's Firestone 1316 East Main in Batesville we'll be celebrating 60 years of service to the Batesville Area on Wednesday, February 9, 2022. Ronnie and Jeramy Jeffery would like to invite everyone out for lunch and great giveaways! Register for a set of 4 Firestone and 4 Hercules Tires to be given away at 1 pm, and lots of other prizes too!
Join Bob Connell and the Timeless team this Wednesday as we broadcast live from 10 am to 1 pm, We'll be serving up free Petit Jean Hot Dogs wrapped in a Sunbeam Bun, Pepsi, and Popcorn.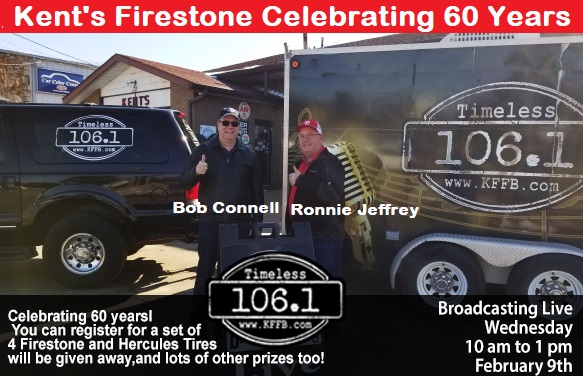 Also, if you have a Timeless Sticker on your vehicle, you'll be in the drawing for $60.00 worth of gas given away every hour!
Don't miss the 60th-anniversary celebration at Kent's Firestone, this Wednesday, February 9th, from 10 'til 1 with Timeless 106.1 KFFB.
Check out Timeless 106.1 KFFB at the 50th Anniversary! Click here to see the story!