SEARCY, AR., – March 1, 2021 –The Large Scale Vaccination Clinic will be held on Tuesday, March 2nd from 7:30 a.m. – 4:30 p.m. at Fellowship Bible Church's new location 1009 E. Beebe Capps Expressway in Searcy. Arkansans ages 65 and older who have not yet received their first dose of the vaccine are eligible for vaccination. Call (501) 500-8901 for an appointment. Walk-ins welcome, but appointments have priority.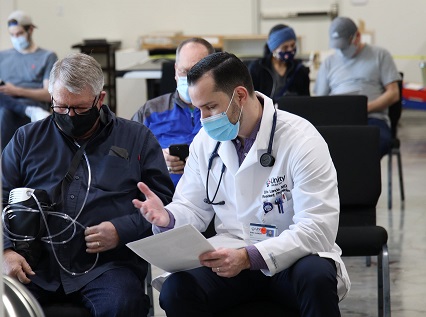 "The recent vaccination clinic was a great success," said Dr. Roddy Lochala, D.O., Chief Medical Officer at Unity Health. "Now with Governor Hutchinson's new guidelines extending vaccinations for ages 65 and over, we have the unique opportunity to serve even more Arkansans who have been unable to get vaccinated. This vaccine is critical to safely building immunity in the community and drastically decreasing the risk of severe outcomes from COVID-19."
This partnership of Unity Health and Arkansas Foundation for Medical Care enables the community to receive a larger number of COVID-19 vaccinations during this extended one day only clinic. There will also be a second round vaccination clinic three weeks later for those receiving their first round of the vaccine during this time.