Since 1963, spring in the small town of Mountain View has been in ushered by not only the blooming of wildflowers and dogwoods, but also by the Arkansas Folk Festival. It is a festival that marks the return of impromptu musical gatherings, or pickin', on the Courthouse Square, and a time when craftsmen display their winter's work. The dates for the 58th Arkansas Folk Festival are April 16-17, 2021 and, as always, admission is free. Most activities will be held at the historic Court Square.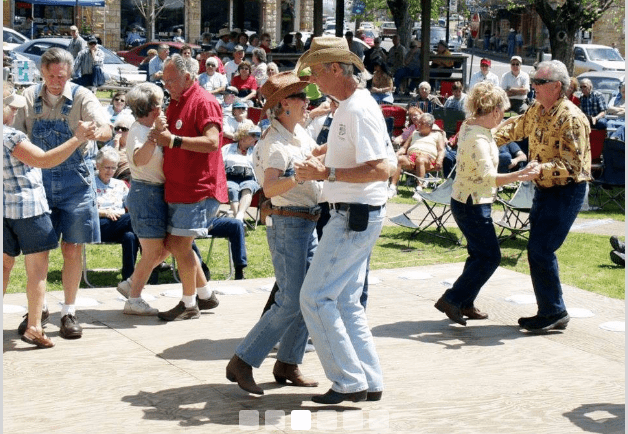 Actually, the initial Arkansas Folk Festival was held August 20, 1941 at Mitchell Cave near Blanchard Springs, in the Ozark National Forest. It was named the Stone County Folkways Festival and was the brainchild of the Stone County Extension Homemakers clubs
The purpose of the Folkways Festival, as noted in their souvenir program, was:
The first annual Stone County Folkways Festival has as its aim the bringing together of all the people of Stone County for a day of merrymaking and fellowship. The folk arts and folk craft in which this region abounds will be the featured attractions of the day's program, to the end that worthy traditional expressions among the people of Stone county may be preserved or revived and take their rightful place in the cultural heritage of America. It is hoped that this Festival becomes an annual event, as it has much educational and historical value.
The festival was interrupted by war and didn't get rekindled until 1963. Since then, thousands of visitors have reserved the third weekend in April as a time to renew a kinship with traditions as old as Arkansas itself. The Arkansas Folk Festival has become a spring rite for several generations of music and craft enthusiasts.
A variety of food vendors, children's games, and plenty of music in the form of informal "pickin'," which often begins in the mornings and lasts until well after sundown. This year will also feature scheduled musicians on stage Friday and after the parade on Saturday.
The parade will be along Main Street, which starts at 10 a.m. on Saturday. The parade includes floats, music, horses, dignitaries and a lot of fun!
The festival also signals the opening of the Ozark Folk Center State Park's 2021 season.  During the Festival weekend, free admission will again be offered to the Craft Village, which is open 10am-5pm. Master artisans create many traditional items. Free shuttle rides will be offered between the park and downtown both Friday and Saturday. Visitors are encouraged to park free at the Ozark Folk Center and take the shuttle to downtown and avoid the hassle of trying to find parking around the Square. For more information about the Ozark Folk Center, call (870) 269-3851, or visit www.ozarkfolkcenter.com.
For complete festival information, contact the Mountain View Area Chamber of Commerce at 1-888-679-2859; or visit www.yourplaceinthemountains.com.