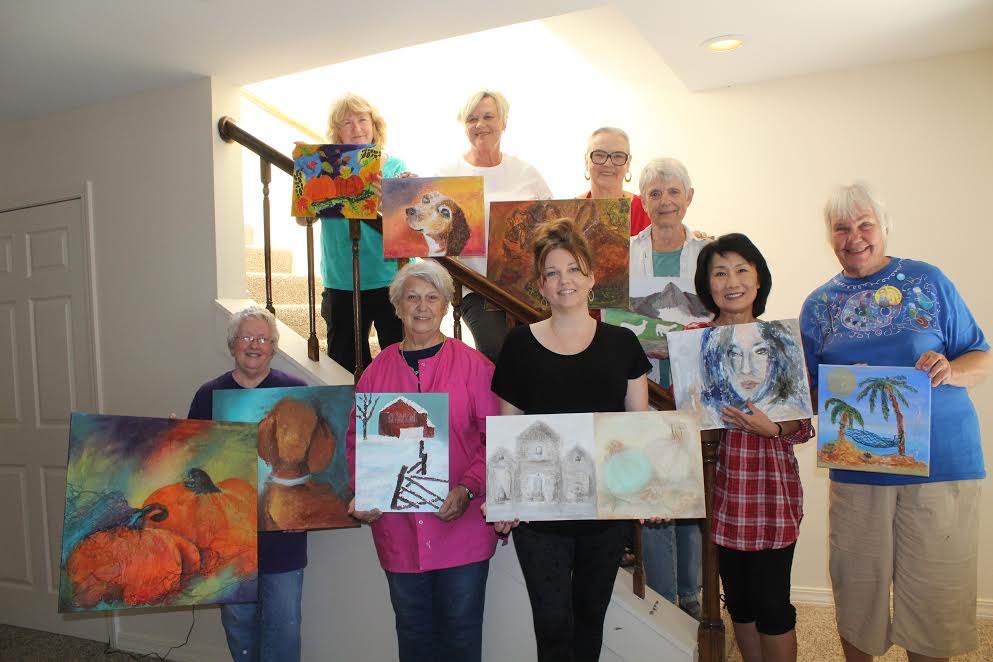 Members of the NCA Artist League hung a new exhib at Ozark HealthMedical Center in St. Clinton. They recently completed a workshop with Caren Garner of Conway. Some of the embers are (from left, front row) Caren, Instructor, Pauline Sears, Pam Connell, Yun Kim, Joyce Hartmann (back from left) Alecs Long, Dianne Traylor, Faye Rodgers, and Carolyn Goettsch.
"Gifts and Gratitude" is the theme for the new art exhibit hanging at Ozark Health Medical Center on S. Highway 65 in Clinton from now through Jan 15th. About 50 new art works, all for sale, can be purchased at the Gift Shop from 10 a.m. until 3 p.m., with prices varying from $15 to $800.
Local artists exhibiting are members of the North Central Arkansas Artist League. They are Ellen Kelly, Nelson Scott, and Charlotte Rierson of Fairfield Bay; Julie Caswell and Jan Cobb of Greers Ferry; Joyce Hubbard and Yun Kim of Mt. View; Sue Pico, Diana Foote, and Faye Rodgers of Clinton; Caren Garner of Conway; and Joyce
Hartmann, exhibit coordinator, Choctaw.
Each sale includes a percentage to the Hospital Auxiliary for their projects. Also works by former member D.G. Hendrickson of Fairfield Bay, now deceased and exhibited by Alecs Long of Fairfield Bay, pledge additional proceeds to the Animal Protection League.
Subject matter includes birds, flowers, figures, landscapes, animals, and still life. Creative imaginative and impressionistic works are also evident. Professional artist Caren Garner recently taught a workshop on adding texture to acrylic paintings, and there are several pieces demonstrating those techniques. And keeping with the holiday spirit, there are pumpkins, autumn trees, winter scenes, and Santas.
The Artist League invites the public to view this art, and to purchase some as one-of-a-kind gifts, or to add beauty to their home while helping the causes of local charitable organizations.
The Artist League invites anyone interested in joining the club to call a member or Vice President Joyce Hartmann, 745-6615. They meet each Monday morning in Fairfield Bay to paint together and learn from each other, and on the 3rd Monday of most months they have a special art program or demonstration. They also sponsor workshops and hang exhibits at libraries and other public buildings.