March 12, 2021 (Batesville, AR) The Batesville Area Chamber of Commerce had A ribbon cutting ceremony for American Freight Furniture, Mattress, Appliance on Friday, March 12, 2021, at 1 Furniture Lane in Batesville. Since 1994, American Freight has been helping customers save money on quality furniture and mattresses. In 2020, American Freight acquired FFO Home, a regional retailer of furniture and mattresses.
To learn more about American Freight visit https://www.americanfreight.com/.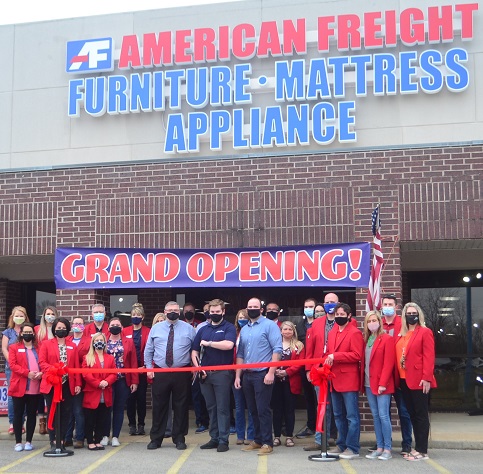 Ambassadors in attendance included: Justin Russell (Bank of Cave City), Aaron Herndon (Citizens Bank), Ashley Engles (Citizens Bank), Mandi Babinni (Centennial Bank), Morgun Henson (David's Home & Sleep Center), Rachael Fischer (First Community Bank), Genafer Foree (Goodwill Industries), Brittney Harris (Independence County Off-Road), Aaron Moody
(Independence County Sheriff's Office), Jamie Chapman (Merchants & Planters), Brook Cossey (Rawk Imprinting), Josh Settimio (Rich Realty), John High (Roller Crouch Funeral Home), Courteney Muse (Southern Bank), Becky Warren (UACCB), Kim Whitten (UACCB), Jesse Cargil (UAMS), Amy Finster (White River Health Systems), Chad Whiteaker (White River Now), Dana Millikin (White River Now), and Gena Ries (White River Now).