On the outskirts of Atkins, Arkansas, in the shadow of Petit Jean mountain, the 10-generation Ralston family farm is paving the way for new methods of farming. The farm will be featured in the premiere segment of "Good Roots," which explores rural community life, agribusiness and how these things are evolving through modern advances, during "Arkansas Week" Friday, April 16, at 7:30 p.m. on Arkansas PBS and livestreaming at myarpbs.org/watchlive.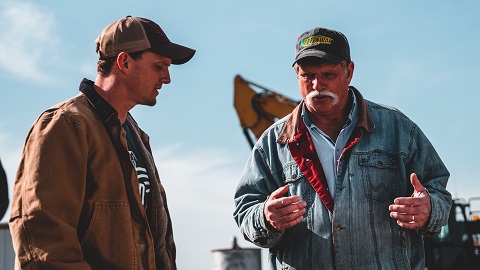 Logan Duvall, host of the first segment, will visit the Ralston family to explore some farming techniques they have been using as a way to give back to the land. These regenerative agriculture techniques involve farming and grazing practices that, among other benefits, help restore soil health, resulting in high quality, nutrient dense food. The Ralstons will explain their methods and what it could mean for other farmers in the state.
"Good Roots," produced in partnership with Arkansas Farm Bureau, seeks to shine a light on Arkansas's rich rural culture and communities. Segments focus on the real stories of rural life, while addressing relevant topics like agriculture, health care, the economy, technology, policy and more. Beginning in May, the segment will air on the second Friday of each month. Additional information is available at myarpbs.org/GoodRoots.
Segments and bonus footage of "Good Roots" and future content will also be featured on all Arkansas PBS digital platforms, including YouTube, Facebook, the Engage Arkansas PBS app and the PBS Video app. A blog series will accompany the segments at myarkansaspbs.org.
Major funding for "Good Roots" is provided by Arkansas Farm Bureau.
Arkansas Farm Bureau is a nonprofit, private advocacy organization with almost 190,000 families throughout the state working to improve farm and rural life. Farm Bureau is an independent, voluntary organization of farm and ranch families united for the purpose of analyzing their problems and formulating action to achieve educational improvement, economic opportunity, social advancement and promote the national well-being.
Arkansas PBS is a participating station in the Corporation for Public Broadcasting's (CPB) project, Coming Home: Connecting to Community collaboration that celebrates the people, culture and stories of rural America through authentic local voices and talent. This multifaceted collaborative showcases local stories about the diversity, traditions and richness of small towns and rural life. Coming Home: Connecting to Community speaks to all Americans as public media stations elevate stories about what home means, the contributions and significance of America's small towns, and about shared values across communities.
Arkansas PBS, Arkansas's only statewide public media network, enhances lives by providing lifelong learning opportunities for people from all walks of life. Arkansas PBS delivers daily, essential, local, award-winning productions and classic, trusted PBS programs aimed at sharing Arkansas and the world with viewers through multiple digital platforms, including livestreaming at myarkansaspbs.org/watch, on-demand services and YouTube TV, and the distinct channels Arkansas PBS, Arkansas PBS Create, Arkansas PBS KIDS, Arkansas PBS WORLD and Arkansas PBS AIRS on SAP. Members with Arkansas PBS Passport have extended on-demand access to a rich library of public television programming. Arkansas PBS depends on the generosity of Arkansans and the State of Arkansas to continue offering quality programming. Additional information is available at myarkansaspbs.org. Arkansas PBS is broadcast on KETS (Little Rock), KEMV (Mountain View), KETG (Arkadelphia), KAFT (Fayetteville), KTEJ (Jonesboro) and KETZ (El Dorado).