Governor-elect Sarah Huckabee Sanders today announced her intention to nominate Mike Mills as the Secretary of the Department of Parks, Heritage and Tourism.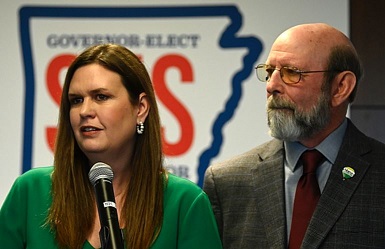 "Mike Mills is one of the premier outdoor recreation and tourism leaders not only in the state of Arkansas but across the country, and I am proud to announce my intention to nominate him as the next Secretary of Parks, Heritage and Tourism," Sanders said. "Arkansas is the Natural State – and from our unparalleled natural beauty to our world-class outdoor recreation to our rich cultural heritage, we have an incredible story to tell. Together, we will share it with the rest of the nation and the world and take our state to the next level."
 
"I am honored that Governor-elect Sanders has nominated me to be the Secretary of Parks, Heritage and Tourism – and ready to get to work growing our outdoor economy," Mills said. "It's time to unleash the Natural State's potential to be a true leader in parks and tourism, improving access for all Arkansans and our visitors to world-class outdoor recreation." 
 
Mike Mills biography:
 
Mike Mills is the founder and owner of Buffalo Outdoor Center (BOC) – Arkansas' first log cabin resort. 
 
Since Mills started BOC in 1976, it has served more than 12 million guests and collected more than $1,000,000 in tourism tax while donating over $40,000 to the Tourism Development Foundation. Mills has guided two Governors, two Arkansas First Ladies, and two U.S. Senators on the Buffalo National River. In 2011, he created Arkansas' first Zip Line Canopy Tour and in 2013, BOC was Arkansas' Small Business of the Year. 
 
Mills has worked in the tourism business for more than 48 years. He has served 40 years on the Tourism Development Foundation, 39 years on the Arkansas Travel Council, 28 years on the Board of America Outdoors Association, and 25 years on the Ozark Mountain Region Tourism Association. He was a founding member of Arkansas Resorts and a charter member of Arkansas Scenic Highway 7 and Arkansas Scenic Rivers Commission. He also spent 18 years on the Arkansas Parks, Recreation and Travel Commission. 
 
From 1982 to 1986, Mills served as the Arkansas Director of Tourism where he started Partners in Tourism, and in 2018 he was inducted into the Arkansas Tourism Hall of Fame. 
 
Mills graduated from Rogers High School, and after graduation he served in the United States Marine Corps for two years. He then received his Bachelor of Science from Hendrix College.  
 
Mills grew up on a farm west of Lowell and currently resides in Ponca.