U.S. Senator John Boozman (R-AR) visited Leachville, Monette, and Trumann on Monday to see firsthand the extent of the damage and progress of the clean-up and recovery after severe storms and at least one tornado struck the area earlier this month. The senator listened to stories about the natural disaster's impact on each community, including among agriculture producers and small business owners, in addition to meeting with first responders and local leaders helping navigate the rebuilding process in Northeast Arkansas.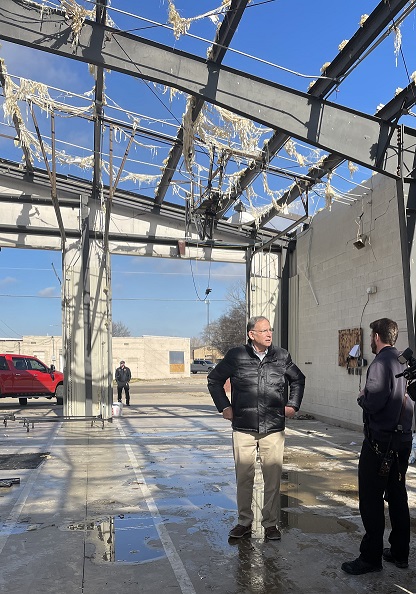 Boozman visited the Trumann Fire Station and met with first responders. The roof was ripped off the structure and the building sustained severe damage as a result of the December 10 tornado.
"This is a difficult time for Northeast Arkansas residents as they grieve the loss of loved ones, pick up the pieces and begin rebuilding. There is a lot of work ahead for these devastated communities, but they are strong and continue to come together in this time of great need. I'm ready to help support federal disaster relief to assist families, small businesses and local governments in the recovery," Boozman said.
Boozman wrote about the resiliency of Arkansans when disaster strikes in his most recent column.
"While recovery can be a long and grueling process, it also serves to bring out the best in us. Community members unite around the common goal of supporting those in need. Assistance from neighbors, friends and volunteers, and even just positive encouragement that comes from far and wide, give hope to families and business owners struggling with loss and displacement."