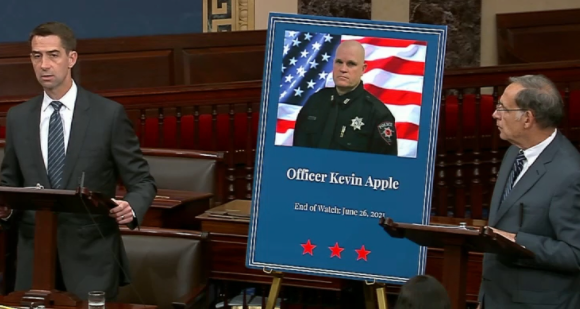 Arkansas Senators John Boozman and Tom Cotton paid tribute to the service and sacrifice of Pea Ridge Police Officer Kevin Apple who was killed in the line of duty on June 26, 2021.
"Officer Apple was the embodiment of what it means to wear a police badge and uniform. His exemplary service and dedication to serving his community are inspirational, and he leaves behind a worthy example for other officers to imitate," Boozman said. "He did much more than serve and protect. The Pea Ridge Police Chief said Officer Apple put humanity in the job. For a police officer, there's no higher compliment than that."
"Police Officer Kevin Dale Apple protected the community he loved for 23 years, but his long and honorable career in law enforcement was cut tragically short a little more than two weeks ago. We must never forget the lawmen who lay down their lives to keep us safe. We will respect Officer Apple's memory, just as we respect every law-enforcement officer who wears the badge with honor," Cotton said.