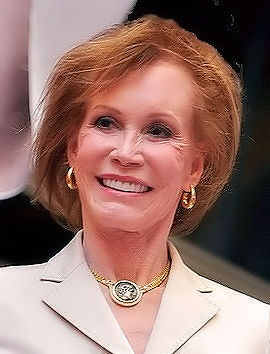 Sitcom sweetheart Mary Tyler Moore, at the age of 80 passed away on Wednesday.
In 1961 Moore landed a role on "The Dick Van Dyke Show" as Laura Petrie, the wife of Van Dyke's Rob Petrie. Four years after that show ended its run, Moore landed her own show, "The Mary Tyler Show," in 1970, who gained fame playing winsome television producer Mary Richards on the popular 1970s television series "The Mary Tyler Moore Show" and broke new ground as an independent career-woman in a leading role.
Moore won six Emmy Awards over the course of her career, including five for Outstanding Lead Actress in a Comedy Series.
Moore had Type I diabetes, and in 2011 had surgery to remove a benign brain tumor. In 2015, her friends said she had heart and kidney problems and was nearly blind.
Mary Tyler Moore, passed away in the company of friends and her loving husband of over 33 years, Dr. S. Robert Levine," her rep Mara Buxbaum said in a statement. "A groundbreaking actress, producer, and passionate advocate for the Juvenile Diabetes Research Foundation, Mary will be remembered as a fearless visionary who turned the world on with her smile."